June 28, 2012 – Ben Berry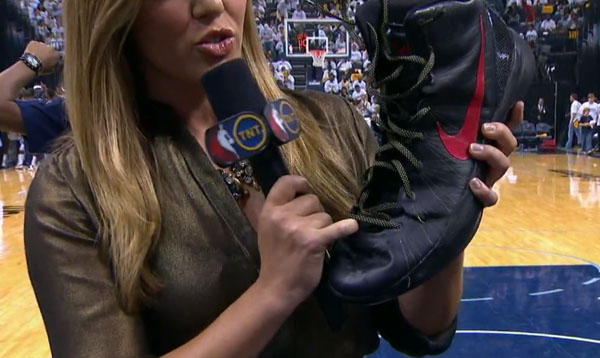 Light done wrong?
Nike's Elite series was introduced in this past NBA Playoff season as an upgraded version of three currently popular Nike Basketball sneakers: the Zoom Kobe VII, LeBron IX, and Hyperdunk 2011. When the Hyperdunk was introduced back in 2008, it was a game-changer for the Swoosh revolutionizing their basketball line and spawning off into other Hyper-labeled sneakers which is now a standard for the company. The 2012 Hyperdunk+ drops on June 29th and stands to be the flagship sneaker that Team USA will wear during the Olympic Games this summer in London.
Ever since BG32 won the Slam Dunk Contest in 2011, he has been treated to more Hyperdunk PEs that any player in memory has since the sneaker's inception. During Game 5 of the Clippers/Grizzlies series, Griffin suffered the lost of a Hyperdunk 2011 Elite left sneaker it ripped during gameplay (though the rip was aided by one of Marc Gasol's feet). After this game he switched back to the Supreme version of the 2011 Hyperdunk to finish out the series. While many in the sneaker world anxiously await the release of his 'Galaxy' Hyperdunk 2011 Supreme, you can head to eBay to pickup the pair this entire article is about. This Nike Hyperdunk 2011 Elite – 'Blake Griffin' Player Exclusive is a true PE as this pair is a size 17 which is Griffin's actual sneaker size.
Scroll down to see more detailed pictures of Blake Griffen's Hyperdunk 2011 Elite PE provided by the eBay seller as well as the video of it ripping in the 1st quarter of a Playoff game.