March 31, 2012 – Ben Berry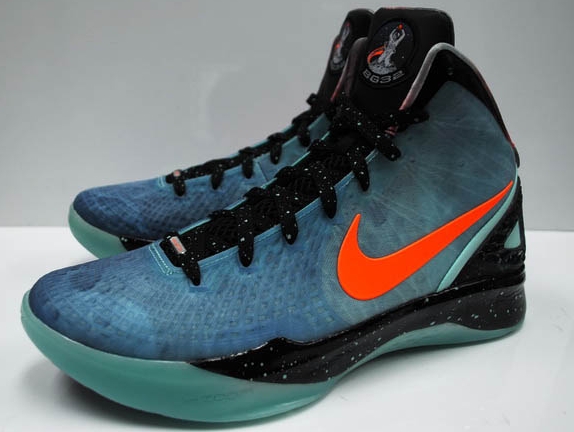 Blake Griffin spearheaded the Zoom Hyperdunk 2011 movement during the 2011 All-Star Weekend by jumping over a Kia to win the Slam Dunk Contest in his first Hyperdunk 2011 PE, so it's only right that Nike continues the tradition. Griffin was a part of Galaxy-mania in 2012 during this year's All-Star Game, lacing up a space-inspired Supreme version of the sneaker he helped make popular last year.
The version of the pair going to retail differs from the sample pair we covered early in the month and is more like the exact pair Hurricane Blake wore during the 2012 All-Star Game.
Despite minor changes (major depending on who you speak to), the 'Galaxy' Hyperdunk 2011 Supreme PE remains true to the pair Griffin wore in-game and not so much like the samples floating around. The most dominate feature all sneakers in the 'Galaxy' family have are the glow-in-the-dark soles which are present here. The moon image is also still seen on the upper as well as the star-studded midsole and heel panels but on this pair laces with the same pattern as the midsole are used instead of the galactic laces to match the insole you might've become used to seeing. Galaxy laces might be included with the packaging, but that remains to be seen.
No exact date is set on these but expect these to drop sometime during the summer.