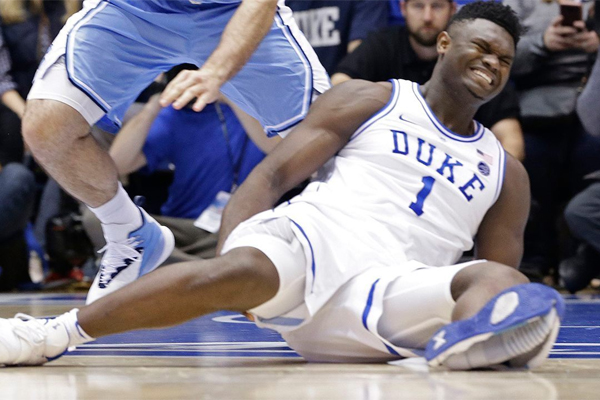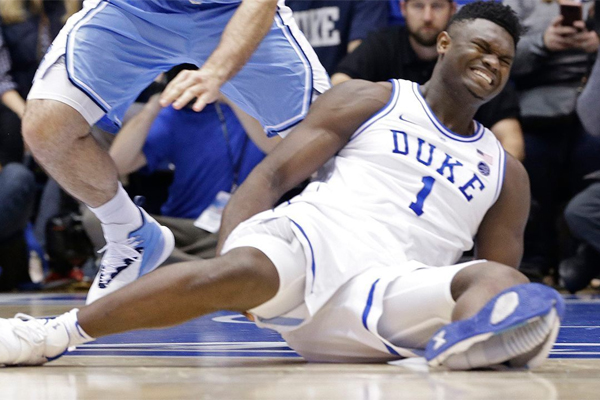 Freshman sensation and top NBA draft prospect, Zion Williamson, suffered a knee sprain after his Nike shoe blew out during the opening minute of top-ranked Duke's showdown with No. 8 North Carolina on Wednesday at Cameron Indoor Stadium in Durham, N.C.
Zion was injured on a bizarre play in which he dribbled near the top of the key, planted his left foot, then fell to the ground as his left shoe shredded down the middle of the sole. The blue rubber sole ripped loose from from the heel to the toes along the outside edge, with Williamson's foot coming all the way through the large gap.
Here's the knee injury that ended Zion Williamson's night…. pic.twitter.com/2gkKTq7gTl

— Adam Schefter (@AdamSchefter) February 21, 2019
While describing the sprain as mild and the knee as stable, coach Mike Krzyzewski said he doesn't know how much time Williamson will miss.
"We're very concerned about Zion. It's a mild knee sprain. We will know about length of time tomorrow. It's stable. "
The shoe he was wearing Wednesday was the Nike PG 2.5, a Paul George-themed model, according to multiple media reports.
Nike said in a statement that it was concerned and wished Williamson a speedy recovery. It said it was working to identify the issue.
"We are obviously concerned and want to wish Zion a speedy recovery. The quality and performance of our products are of utmost importance. While this is an isolated occurrence, we are working to identify the issue."
The incident comes just over a year after Nike's official NBA jerseys repeatedly tore during games in November 2017. And the Williamson fiasco could not come on a more visible evening for the brand: the biggest college basketball game of the year so far, a game some fans paid more than $2,000 to attend, and Williamson's first Duke-UNC rivalry game of his college career. As of Thursday morning, Nike shares were down 1 percent.
Williamson is the ACC's second-leading scorer with 22.4 points per game. He is arguably the most exciting player in college basketball.
We're supposed to find out more today about when Williamson might be able to return to action, but whatever recovery timetable Duke's doctors come up with should be moot. Williamson has nothing left to gain from college basketball and even stars like Isaiah Thomas think Zion should just sit it out and wait for the draft.
Let these kids go straight out of HS!!! Too much on the line to be messing with college if you got a legit chance to turn pro. One injury can change somebody career, Zion sit yo ass down lol and we will be ready for you in the big boy league #LookingOutForThePlayers

— Isaiah Thomas (@isaiahthomas) February 21, 2019