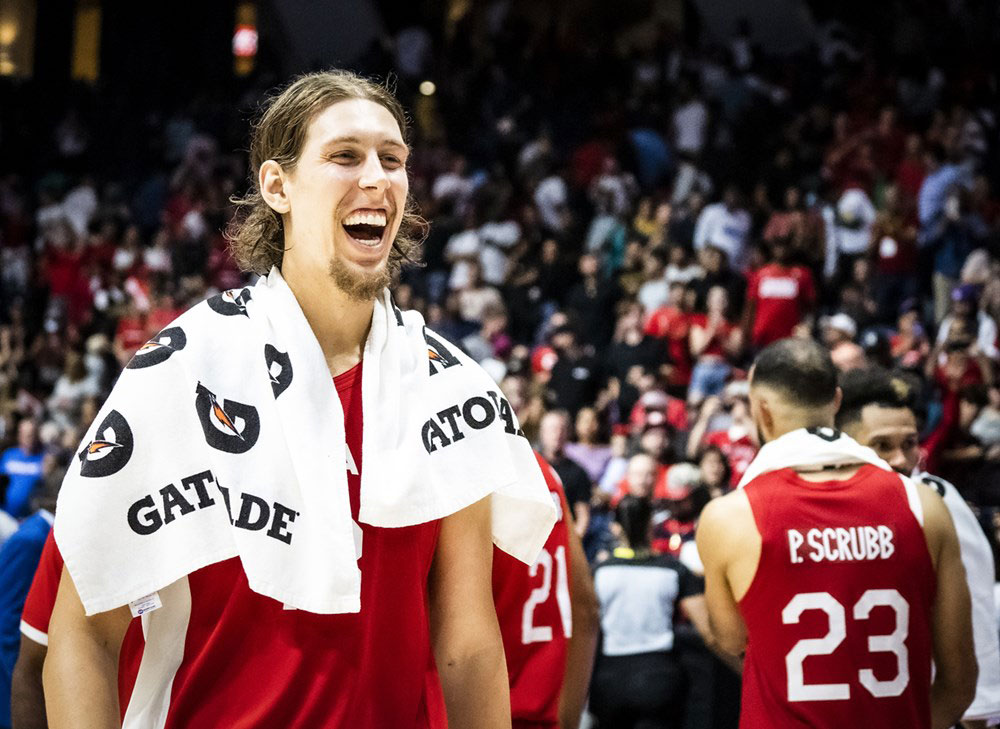 Unsurprisingly, players such as Luka Doncic, Shai Gillgeous-Alexander, Lauri Markkanen, and Karl-Anthony Towns are among the best players at the 2023 World Cup. As NBA All-Stars, these players were expected to be the leaders of their respective teams and the focal point of the tournament.
However, any basketball fan knows that a superstar player needs to rely on a second and third option to help their team find success. And yet some teams do not have an identified "alpha", but rather a collective group of players who can step up at any moment.
For the following five NBA players, their importance is often underrated by fans and media. However, thanks to a strong showing at the 2023 World Cup, they have shown their true value, not only to their NBA team but also to their country during the 2023 FIBA World Cup.
Austin Reaves – LA Lakers
On a team where players like Brandon Ingram and Cameron Johnson, two big contract NBA players who are seen as first or second options on their respective teams, are struggling to find playing time and their role within Team USA, Austin Reaves continues to stand out. As Coach Kerr's "Swiss army knife" off the bench, "Hillbilly Kobe" is the leader of the second unit and has proven to be able to fill any role asked.
As a scorer, Reaves averages 11 points off the bench, shooting 55%, and hands out three assists per game. On the defensive end of the floor, Reaves is constantly patrolling the passing lanes, averaging 1.5 steals per game, and is an efficient defender and rebounder, helping kickstart the fastbreak for Team USA.
Many predict that Reaves's experience with the USA National team will help elevate his stat line and role as a third option with the Lakers as they look to capture their eighteenth NBA championship.
Kelly Olynyk – Utah Jazz
At 32 years old, Kelly Olynyk is the senior representative for Team Canada, a program that he has been a part of since 2010. As the captain of a team that just qualified for their first trip to the Olympics since 2000, Olynyk has been through the lows and now the highs of a program that many feel should be a regular contender for a medal regardless of what tournament they participate in.
Standing 6'11", 240lbs, Olynyk is the prototypical modern-day big man who has the ability to provide his team with a little bit of everything. Ranking third on the team in scoring (11.2 ppg), second in rebounds (5.2rpg), and third in assists (2.8apg), Olynyk's national team stats are very similar to his NBA career averages (10.3 / 5.2 / 2.2). As Utah continues its rebuilding process, Olynyk provides the Jazz with the same veteran experience on the floor and in the locker room as he does for Team Canada.
Bogdan Bogdanovic – Atlanta Hawks
A member of the Serbian National Team since 2010, Bogdanovic has helped the team to numerous silver medals, including the Olympics and World Cup.
Averaging 18.8 points, 4.8 assists, and 3.2 rebounds for the Serbian National Team, Bogdanovic has proven to be their number-one offensive option, a role that is not exactly reflective in the NBA. During each of his three seasons (to date) with the Sacramento Kings and now the Atlanta Hawks, Bogdanovic has been looked to as a scoring threat off of the bench, starting just 161 of 370 games.
At the start of the 2023 FIBA World Cup, Bogdanovic ranked 52nd in all-time tournament scoring with 291 points but has now found himself trailing Dirk Nowitzki by just 21 points for the 16th spot (prior to their semi-final game against Canada) and surpassing International and NBA greats such as the late Drazen Petrovic, Manu Ginobli, Marc Gasol and Yao Ming.
Dennis Schroder – Toronto Raptors
Known more for turning down a rumored 4-year / $84 million deal in 2021 than anything else he has done during his decade-long NBA career, point guard Dennis Schroder has proven to be a problem for any team facing the German National Team during the 2023 World Cup.
Even though Germany did not play their best game versus Latvia, luck is also part of the game, like in any popular online casino game website, and thanks to a three-point missed the Germans are among the 4 best teams in the world.
As the only undefeated team heading into the final four, Schroder has been the leader of a young and talented team looking to have their best showing at the World Cup since claiming bronze in 2002. Averaging 18 points and dishing out a shade over six assists, Schroder is the engine that makes the German National Team go, either by pushing the tempo, running the pick and roll, or filling the basket.
Now on his sixth team in eleven years, Schroder will be looked to as the veteran leader of a retooling Raptors team.
Nikola Vucevic – Chicago Bulls
Yes, he is the most accomplished player on this list, earning two trips to the NBA All-Star Game and over $155 million in salary during his twelve years in the NBA, but at this point in his career, Nikola Vucevic is an underrated big man.
A poster boy for consistency, Vucevic posted similar numbers the past two NBA seasons, averaging 33 minutes, 17.6 points, 11 rebounds, and 3.2 assists.
As a member of the Montenegro National Team, since he was part of the Under 20 program, Vucevic has grown to become the leader of the team, posting his best international stat line during this World Cup with 19.8 points, 8.8 rebounds, (ranking among the top ten in both categories) and 1.2 assists.
While Vucevic was the driving force behind Montenegro's ninth-place finish, helping the team earn a ticket to the Olympic Qualifying Tournament next year, Chicago Bulls fans hope that he can do that and more for an underachieving team that has made just one playoff appearance in the last six years.