December 7, 2010 – Dr. Anklesnap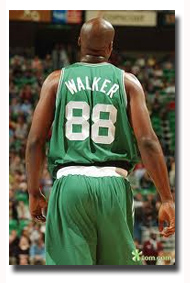 Late last week we told you that Antoine Walker was being sued by some random dude for stealing his fiancée. And I think we all are well aware of Walker's financial troubles stemming from gambling addiction since retiring from the NBA in 2008. So what does a retired NBA player do in the face of bankruptcy and legal troubles?
Well, they come out of retirement and try to make an NBA comeback of course. But will there be any takers? For some former All-stars it may not be that much of a stretch, but for Walker who can be considered almost as cancerous to a team's chemistry as Allen Iverson, not many NBA clubs are willing to take a gamble on such a volume shooter. In the same light as a Rasheed Wallace, Walker has tremendous upside as a post player given his footwork and post skills, however like Wallace spends far too much time hanging around the perimeter looking to be a long range bomber.
Walker did get a tryout for the Charlotte Bobcats this year at pre-season training camp, but he didn't make the squad.
So now what?
Apparently the Idaho Stampede of the NBA Development League is willing to take a gamble (no pun intended) on Antoine Walker. But at 34 years of age can he make that jump from the D-League back into the pro's? Not too likely, and if he did his contract would surely not be big enough to get him out of the $12 million hole he currently finds himself in. Ah well, it should be entertaining to watch. Plus, he and the Idaho Stampede have something in common. They are both struggling financially:
Former NBA All-Star Antoine Walker is expected to be assigned to the Idaho Stampede on Tuesday. The Stampede have called an afternoon press conference to introduce Walker.

Walker, 34, played 12 seasons in the NBA, most notably with the Boston Celtics, and made three All-Star appearances. Walker averaged 17.5 points and 7.7 rebounds with Boston, Atlanta, Miami and Minnesota after being the No. 6 overall pick out of Kentucky in 1996.

Walker has not played in the NBA since being waived by Minnesota in 2008.

Plagued by financial and legal trouble in recent years, Walker is attempting to get back into the NBA. In 2009, he was charged with three felonies for writing bad checks at Las Vegas casinos totaling nearly $800,000. Walker filed bankruptcy earlier this year with more than $12.7 million in debts.

Walker practiced with Charlotte earlier this year, but did not earn an invitation to training camp. He signed with the NBA Development League on Friday after passing a background check. (Via)