December 7, 2010 – THD Rumor Patrol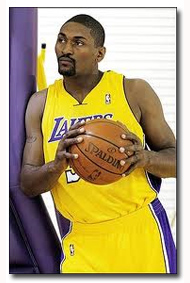 Ron Artest last season was the Lakers hero in Game 7 of the NBA Finals against the Boston Celtics. He was the old Ron Artest on defense and was the old 20+ ppg Artest on offense. So what happened over the summer? This season Ron Artest has barely been noticable on or off the court. His numbers are down across the board, starting with playing time. Can the Lakers repeat as champions without Artest being an integral part of the team's direction? The LA Times recently asked Ron Artest some of these tough questions, and he did his best to deflect back to the 'greater good of the team' concept:
"Guys got better," he said. " Shannon [Brown] got much better. It's his time to shine. Steve [Blake] is averaging more than Jordan [Farmar] last year and then Matt Barnes is probably averaging more than Luke [Walton]. So if you take all those points, those are points I probably could have had. But those are team points.
"When people start talking about numbers, I think realistically they're trying to sabotage the team and they're trying to get negative feedback from a player to be against his team. If somebody says, 'Ron Artest is not playing as well,' they're trying to take away from the team. That's how I take those questions. People are trying to cause friction."
Artest is averaging 8.2 points a game this season, easily a career low if it continues, and shooting only 39.5% in 27.1 minutes a game. His numbers last season: 11 points and 33.8 minutes a game, 41.4% shooting.
Are you buying what Artest is selling? Is his lack of playing time and scoring due to big improvements to the Lakers roster?
Read more details via LATimes.com