December 7, 2010 – Kevin Burke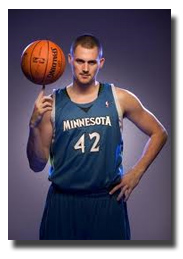 Sometimes you just have to be in the right place at the right time. That's the case for Kevin Love of the Minnesota Timberwolves. In his third year in the Association, Love spent the first two of those playing in the shadow of former teammate Al Jefferson. With Jefferson now doing his thing in Utah alongside Deron Williams, Love can now finally show his worth, and he is doing just that.
Love was taken 5th overall in the 2008 NBA Draft by Memphis after playing just one year at UCLA where he averaged 17.5 points and 10.6 boards. He was quickly traded to Minnesota for O.J. Mayo and had a lot to prove to those who thought he was taken too high despite being Gatorade Athlete of the Year as a senior in high school.
Love was somewhat raw when he entered the league and played in 81 games in his first year putting up 11.1 points and 9.1 rebounds.  He improved in his second season with 14 and 11 averages, but only playing in 60 contests. Then, Al Jefferson left town and the very next day, Love told The Hoop Doctors that he would relish the opportunity for an expanded role if that was in the plans for the team. Apparently that was in the plans and Love has certainly capitalized by averaging 20 and 15 so far this season.
Even before this year began, Love proved to be a valuable contributor to team USA last summer in Turkey during their trek to the Gold Medal in Istanbul for the FIBA World Championships. That team was plenty athletic and had a bunch of young guards and wing players who could get out and run, but the knock against that team heading into the tournament was that they weren't legit enough down low. That's where Love stepped in. He made his presence felt on the glass and created many additional scoring opportunities for the team. Kevin Durant was definitely the leader of that team but Love deserves some….love too.
Fast forward to this year and it's evident that Love needed to get out of Al Jefferson's shadow. Apparently Minnesota knew what they had in Love. The Timberwolves are a very young team, but they have a solid core with Love and Michael Beasley leading the charge. This is the perfect team to accentuate Love's skill set.
Kevin is quietly leading the NBA in rebounding and is putting together an All-Star worthy campaign so far. For most of the season, the Bulls' Joakim Noah was the league's best rebounder but after failing to grab a single rebound in a game against Orlando last week, Love looks like he'll run away with the title barring injury. Love received some major attention around the league a few weeks ago in a home win against the Knicks where he tallied 31 points and 31 rebounds. He was the first player to have a 30 -30 game since Moses Malone back in 1982, before Love was even conceived. Last night, the T'Wolves took on the Knicks again and Love had 33 points, but this time he was "only" able to manage 15 rebounds in the loss.
At 6'10", Love shows his versatility at times by stepping back and shooting 3s. It's rare to see a guy of his size with the touch that he has. In fact, he has made his last eight 3-point attempts, a T'Wolves franchise record. He is certainly coming into his own this year and has proven to be one of the better rebounders in the league.  In 12 of the 21 games so far this year, he has grabbed at least 15 boards. Usually when guys are just noted for being rebounders, they're not usually scorers for some reason. Love breaks that mold as he can fill it up in multiple ways. I don't know what's gotten into him lately, but I like what I'm seeing.
If you're looking for your everyday, predictable basketball talk, then go somewhere else, because Kevin Burke of The Kevin Burke Project brings provocative, thought provoking content about basketball as only he can. Kevin also hosts The Hoop Doctors weekly podcast show, which you can subscribe to for free on iTunes. Follow Kevin on Twitter and Facebook