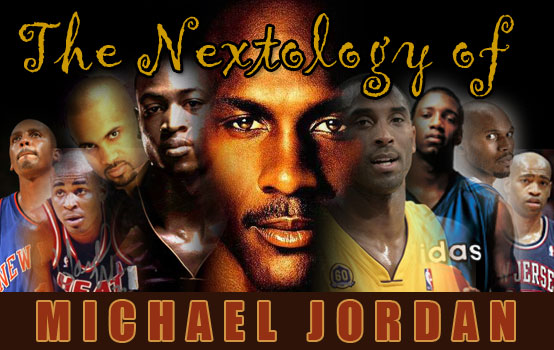 Michael Jordan is the greatest player to ever step foot on a basketball court. Period. Full Stop. This is indisputable to this point in history. So why does the media constantly pin the label of "the next Michael Jordan" on every second high scoring young swing man with some hops? Maybe it's because there is a perceived need to fill the void that Jordan left in the hearts of all basketball fans when he left the game in retirement, or maybe it's human nature to constantly be seeking something bigger, better, more heroic. So who has been compared to Jordan thus far? Who has the media anointed as the "Next Michael Jordan" only to be doomed to never live up to that lofty expectation? You may be surprised at just how many…
The Hoop Doctors love Michael Jordan. That's got to be pretty obvious to everyone by now. So in honor of Michael, and to discourage the media from pretending to be clairvoyant in the future when it comes to comparing young ballers to the greatest to ever play, every week I will be shining a little light on each of the media's shortcomings when it has come to these ridiculous and presumptuous predictions.
These posts are not intended to disrespect any of the players compared to Jordan in any way. They all had excellent careers and were or are tremendous basketball players. It is not your fault someone with very little knowledge of the game or even the skill to play this game decided to call you the "Next Jordan". Part I to my series called "The Nextology of Michael Jordan" will be looking at Jerry Stackhouse:
When I look back on the early to mid 90's and think of Jerry Stackhouse and his style of play, I sort of recognize why the media decided to pin the 'Next Jordan' tag on Stack. He was after all 6'6″ tall, with a closely shaved head, tremendous leaping ability, and to top it all off he played for the same College team Jordan did, the North Carolina Tar Heels. Just like Jordan, Stackhouse was also selected 3rd overall in the NBA draft in 1995. But to take a look at how they are different, let's kick off a comparison of the career stats below in this chart:

| | | | | | | | | |
| --- | --- | --- | --- | --- | --- | --- | --- | --- |
| J.S. Stats: | 18.5 ppg | 3.4 rpg | 3.7 apg | 1.0 spg | 0.4 bpg | .410 FG% | .306 3P% | .820 FT% |
| M.J. Stats: | 30.1 ppg | 6.2 rpg | 5.3 apg | 2.4 spg | 0.8 bpg | .497 FG% | .327 3P% | .835 FT% |
So it's quite clear that although Jerry Stackhouse was a very serviceable starter with a few good years in Philly putting up some nice offensive numbers, he fell way short of being even statistically close to "The Next Jordan". Jordan blew Stackhouse out of the water in every statistical category that matters. In fact by the numbers one of the most glaring differences between Jordan and Stackhouse was their shooting percentages. Jordan was an almost 50% shooter from the field over the course of his career. For a shooting guard/small forward in the NBA this is an amazing statistic for even one season, let alone an entire career. Stackhouse however was a 40% shooter which is commendable, but no 'Jordan'. And if you are one of those "defense wins championships" believers, than Stackhouse fell waaaay short, as Jordan had more than double the steals per game and double the blocks per game over the course of his career that Stackhouse achieved.
But all that said, if looking back I could only pick one reason that Stackhouse fell short of ever having deserved to be compared to the great one, it's his ability to win. Michael Jordan played in 179 playoff games! Stackhouse recently upped his playoff numbers to 64 while going on a nice little run with Dallas as a 6th man, but still this falls way short of just how lethal a Michael Jordan team was in not only making the playoffs, but going deep once they got there. Jordan was a winner, Stackhouse is not.
Tell us your thoughts below on Stackhouse being once called 'The Next Jordan'…..Also stay tuned next week for Part II in the "Nextology of Michael Jordan" series by Dr. Anklesnap.
Links to Other 'Nextology' Posts: