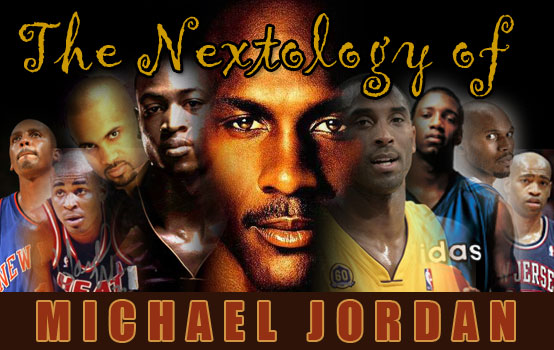 The Hoop Doctors love Michael Jordan. That's got to be pretty obvious to everyone by now. So in honor of Michael, and to discourage the media from pretending to be clairvoyant in the future when it comes to comparing young ballers to the greatest to ever play, every week I will be shining a little light on each of the media's shortcomings when it has come to these ridiculous and presumptuous predictions.
These posts are not intended to disrespect any of the players compared to Jordan in any way. They all had excellent careers and were or are tremendous basketball players. It is not your fault someone with very little knowledge of the game or even the skill to play this game decided to call you the "Next Jordan". Part V to my series called "The Nextology of Michael Jordan" will be looking at Vince 'Air Canada' Carter:
But to take a good look at how different their careers were, I think you always have to start off by taking a birds eye view of the comparison by checking out their individual career stats. Here is the statistical comparison below in this chart:

| | | | | | | | | |
| --- | --- | --- | --- | --- | --- | --- | --- | --- |
| V.C. Stats: | 23.6 ppg | 5.5 rpg | 4.3 apg | 1.2 spg | 0.7 bpg | .447 FG% | .376 3P% | .796 FT% |
| M.J. Stats: | 30.1 ppg | 6.2 rpg | 5.3 apg | 2.4 spg | 0.8 bpg | .497 FG% | .327 3P% | .835 FT% |
Vince Carter has fallen way short of the title "The Next Jordan". While he has had a few excellent seasons in the NBA where he averaged over 25 points per game and had respectable numbers in rebounds and assists, he has lacked the consistency required to maintain those numbers year after year. Vince may be doomed by his own dunk highlight reel success, given that if he retired from the NBA today he would only be remembered as the player that dunked over 7 footer Frederic Weis in the Olympics, and/or the guy that won the NBA Dunk Contest in 2000 with the Alley-oop East Bay Funk.
I really have a hard time blaming the media for connecting the dots on this one, as you couldn't have scripted a better comparison coming into the league. Vincent Lamar Carter is 6'6″ tall, 220 lbs, with freakish athletic ability. Just like MJ he played three seasons at North Carolina for the Tar Heels under Coach Dean Smith before entering the NBA Draft in 1998. Both were very marketable players due to their looks, social skills, and jaw-dropping jumping ability. Early in his career in Toronto, aside from being called "The Next Jordan", Vince was also labeled "Air Canada" to further fuel the comparisons to "Air Jordan".
Now that Vince Carter is well into his career and we can look back on what was, and maybe would 'should have been', we can easily identify the major difference between Vince Carter and Michael Jordan….and that's "Heart". Michael Jordan was as driven, competitive, and just plain stubborn an athlete you will ever see. He hated to lose, and would do whatever it took to prevent that from happening. Vince Carter on the other hand was quickly labeled as 'soft' and as a quitter. Many people have even referred to Vince as "Mr. Glass" due to his often injured knees and ankles. I will concede that some of the accusations against Carter may have been blown out of proportion (most likely due to the disappointment in his failure to live up to the promise he showed early in his career), but he certainly gave the media plenty of ammunition to turn on him in 2005 when he was traded to New Jersey.
Now if there is one thing you have to give credit to Carter for in the comparison…it's his higher three-point shooting percentage than Michael Jordan. Although eventually fans and analysts would even use that against Vince, saying he developed the outside touch to avoid taking the ball to the basket for fear of getting hurt. In the fans and media's eyes, Jordan hit the weights to bulk up to be able to better handle the contact he was taking from defenders when driving to the hoop, whereas Vince Carter decided to over utilize his outside stroke to the disappointment of fans who wanted to see acrobatic drives to the hoop.
I realize most of you reading this will consider Kobe Bryant to be the closest player we have seen to Michael Jordan, and while I would have to agree, I think Vince Carter had the most promise with his athletic ability and basketball talent. He just didn't have the determination, drive, and leadership that it takes to be a champion.
Tell us your thoughts below on Vince Carter once being called 'The Next Jordan'…..Also stay tuned next week for Part VI in the "Nextology of Michael Jordan" series by Dr. Anklesnap.
Links to Other 'Nextology' Posts: