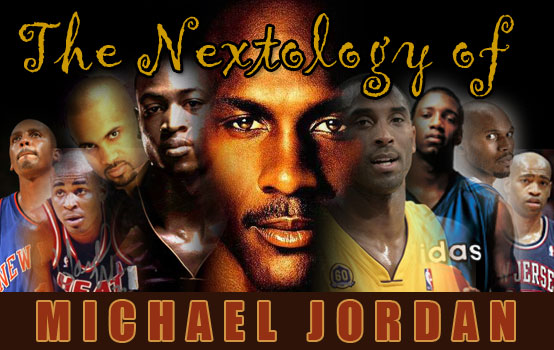 The Hoop Doctors love Michael Jordan. That's got to be pretty obvious to everyone by now. So in honor of Michael, and to discourage the media from pretending to be clairvoyant in the future when it comes to comparing young ballers to the greatest to ever play, every week I will be shining a little light on each of the media's shortcomings when it has come to these ridiculous and presumptuous predictions.
These posts are not intended to disrespect any of the players compared to Jordan in any way. They all had excellent careers and were or are tremendous basketball players. It is not your fault someone with very little knowledge of the game or even the skill to play this game decided to call you the "Next Jordan". Part III to my series called "The Nextology of Michael Jordan" will be looking at Anfernee 'Penny' Hardaway:
But to take a good look at how different their careers were, I think you always have to start off by taking a birds eye view of the comparison by checking out their individual career stats. Here is the statistical comparison below in this chart:

| | | | | | | | | |
| --- | --- | --- | --- | --- | --- | --- | --- | --- |
| A.H. Stats: | 15.2 ppg | 4.5 rpg | 5.0 apg | 1.6 spg | 0.4 bpg | .458 FG% | .316 3P% | .774 FT% |
| M.J. Stats: | 30.1 ppg | 6.2 rpg | 5.3 apg | 2.4 spg | 0.8 bpg | .497 FG% | .327 3P% | .835 FT% |
By a look at the gross statistical differential between Michael Jordan and Anfernee Hardaway's careers you would assume Hardaway was the least like Michael Jordan of all the player's compared to the great one. But you couldn't be more wrong. Before Hardaway's career was plagued by injuries, he was arguably one of the closest players to be compared to Michael Jordan. Although not quite as accomplished of a scorer at the time, in Anfernee's second and third season in the NBA he was averaging over 20 points, 7 assists, 5 rebounds, and 2 steals per game. He did all of this while playing second fiddle to Shaquille O'Neal on the offensive end. Penny was shooting over 50% from the field during those years, and theoretically could have been a much more prolific scorer had he been the first option offensively for the Magic instead of Shaquille O'Neal. You can't blame Magic management though for this choice, as Shaq was a greater than 60% shooter from the field and the second most dominant big man in the game at the time.
Anfernee (who I will refer to by his nickname 'Penny') in his second year in the league went head to head with Michael Jordan and won. Sure he had a little help from a well known guy by the name of Shaquille O'Neal, but still he led his team the Orlando Magic to the NBA Finals in 1995 and had to get by Michael Jordan and the Chicago Bulls in the process. At the time people starting calling Penny "The Next Jordan" because he was a slashing guard of about the same height at 6'7″ (Jordan 6'6″) who could play the point guard, shooting guard, or small forward positions for the Magic. Just like with Jordan's Bulls, most of Orlando's plays used to run through Penny. Hardaway also had a great mid-range, back to the basket game with a great turnaround jumper. Penny most likely patterned his game in that regard after Jordan, who loved to back down smaller defenders into an area where he could abuse them with pump fakes, footwork, and a lethal jumper.
But after all was said and done however, that Penny Hardaway/Orlando Magic victory over the Jordan Bulls in 1995 would have a black mark next to it since it was the year MJ came back more than half way through the season breaking his first retirement. Analysts would eventually say that Jordan was not yet in game shape having been playing baseball instead of basketball during his hiatus. That line of thinking was ultimately cemented as fact when Jordan and the Bulls went on to win 3 more NBA titles in the following years from 1996-1998.
Four knee surgeries later for Anfernee Hardaway, and he was stripped of his explosiveness and ended up finishing out his career playing spot minutes for both the Phoenix Suns and New York Knicks. One of the most magical things about Michael Jordan was not only his consistent and maintained greatness throughout his career, but his ability to stay healthy and dominant. Maybe it was luck, maybe it was conditioning, but regardless of why, Jordan was able to sustain his brilliance. There is probably more 'coulda, woulda, shoulda's' following Penny Hardaway's career than almost anyone else, but at the end of the day he was nowhere near the player Michael Jordan was, and definitely didn't live up to the tag of "The Next Jordan".
Tell us your thoughts below on Penny Hardaway being once called 'The Next Jordan'…..Also stay tuned next week for Part IV in the "Nextology of Michael Jordan" series by Dr. Anklesnap.
Links to Other 'Nextology' Posts: