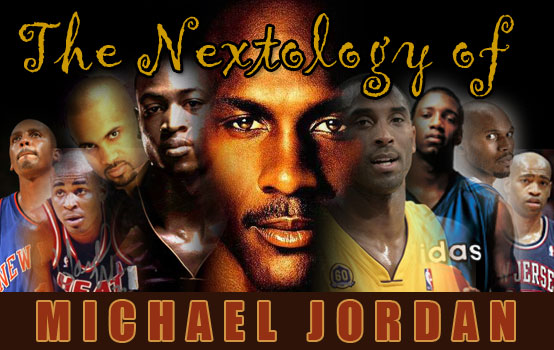 The Hoop Doctors love Michael Jordan. That's got to be pretty obvious to everyone by now. So in honor of Michael, and to discourage the media from pretending to be clairvoyant in the future when it comes to comparing young ballers to the greatest to ever play, every week I will be shining a little light on each of the media's shortcomings when it has come to these ridiculous and presumptuous predictions.
These posts are not intended to disrespect any of the players compared to Jordan in any way. They all had excellent careers and were or are tremendous basketball players. It is not your fault someone with very little knowledge of the game or even the skill to play this game decided to call you the "Next Jordan". Part II to my series called "The Nextology of Michael Jordan" will be looking at Grant Hill:
But to take a good look at how different their careers were, I think you always have to take a birds eye view of the comparison by checking out their individual career stats. Here is the statistical comparison below in this chart:

| | | | | | | | | |
| --- | --- | --- | --- | --- | --- | --- | --- | --- |
| G.H. Stats: | 18.7 ppg | 6.6 rpg | 4.8 apg | 1.4 spg | 0.5 bpg | .484 FG% | .379 3P% | .764 FT% |
| M.J. Stats: | 30.1 ppg | 6.2 rpg | 5.3 apg | 2.4 spg | 0.8 bpg | .497 FG% | .327 3P% | .835 FT% |
Unlike Part I of this series with the comparison to Jerry Stackhouse who got skunked by Jordan, Grant Hill surprisingly has slightly better numbers than MJ in two categories, rebounds and three point percentage. The differential however in those categories is ever so slight, and doesn't come anywhere near making up for the disparity in steals, blocks, assists, and most glaringly points. MJ averaged over 30 points per game over his entire career, whereas Hill averaged only 18 ppg.
I know a lot of you Grant Hill fans out there will point to the multitude of injuries and illnesses Grant has had to deal with and overcome throughout the course of his career, however at his best before any injuries, Grant Hill was barely scoring over 20 points per game. In fact his best season statistically came in 1999-2000 with the Detroit Pistons where he put up only 25.8 ppg. Remarkably, Michael Jordan never put up numbers lower than 26 points per game…until he was almost 40 years old… with the Washington Wizards…after two retirements…and on two bad knees. Even then Jordan put up over 20 points per game. Now that's greatness.
So why was the media so quick to announce that Grant Hill was "The Next Jordan"? Simple: Marketability. Grant Hill was smart both on and off the court, he was well-groomed, good looking, and was perceived as "a good guy". It was a time when the NBA needed to improve their image to one of a more family oriented game with broader appeal. Grant Hill was the guy the media and the league both loved, and he was certainly a guy that sponsors and Corporate America could stand behind. And all of this reminded the world of only one other basketball player who had been able to do all that and more from a marketing stand point. Michael Jordan.
Tell us your thoughts below on Grant Hill being once called 'The Next Jordan'…..Also stay tuned next week for Part III in the "Nextology of Michael Jordan" series by Dr. Anklesnap.
Links to Other 'Nextology' Posts: