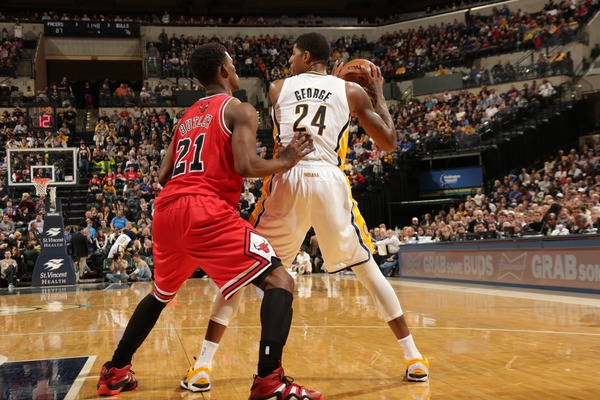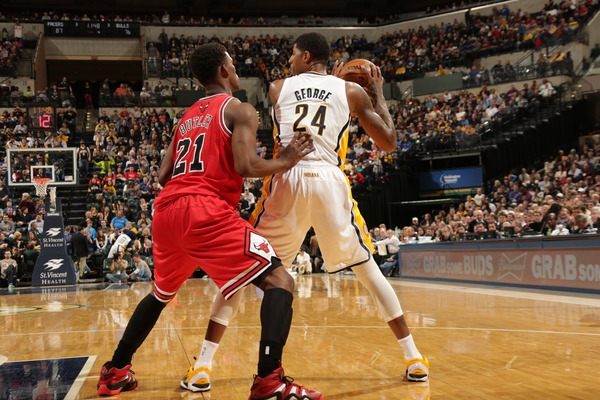 As we rapidly approach the 2017 NBA trade deadline, the rumor mill is starting to intensify by the minute and some real player and draft pick movement is actually happening.
Now that one mega deal has already taken place and the go to "star who could be traded" mantle that Demarcus Cousins had held for two years strong has finally been passed, it appears the baton is being shared by Paul George and Jimmy Butler.
While trade chatter for Jimmy Butler is trending down as it seems the Bulls appear to be hanging on to their hard-working star, chatter for Paul George seems to be gaining steam.
George apparently met with the organization and said he would like to remain a Pacer under one condition: they build a contender around him.
The clock is ticking for that as George is slated to be a free agent in the summer of 2018 and the window for the Pacers to improve is getting smaller by the day.
That is why there are reports out there that the Pacers are not only trying to acquire more talent to surround George with, but gauging his value on the market if they decide to sell early while his trade value is at it's highest
Once ESPN reported that, the flood gates opened followed by a number of reports that Magic Johnson and the Los Angeles Lakers are in hot pursuit of PG-13.
So the Pacers are basically left with a choice? Keep George and try to utilize whatever assets they have not named Myles Turner (there are few) to add a little more talent like say Wilson Chandler to help convince George to stay, or trade their biggest asset and star for a pool of assets to jump start a rebuild centered around Myles Turner (see what I did there?)
That is an agonizing decision, especially when you have nightmares about George pulling a Shaq and opting for the glitz and glam of the purple and gold in LA.
I say the Pacers bite the bullet and trade George for one of the three offer combinations:
From Los Angeles: Brandon Ingram, Julius Randle, a 2018 1st round pick (top three protected)
From Boston: Brooklyn's 1st round pick in 2017, Jaylen Brown, Amir Johnson and Terry Rozier
From Phoenix: Phoenix's 2017 1st Round Pick, Miami's 2018 1st round pick, T.J Warren and Dragan Bender
Let's face it, Indiana will never be a destination for free agents and the Pacers do not have the requisite assets or time to build a legitimate contender in the next year.
While I am admittedly a Suns fan and rooting for option three I feel like Paul George may be a Laker or a Celtic come Friday.