February 15, 2012 – Ben Berry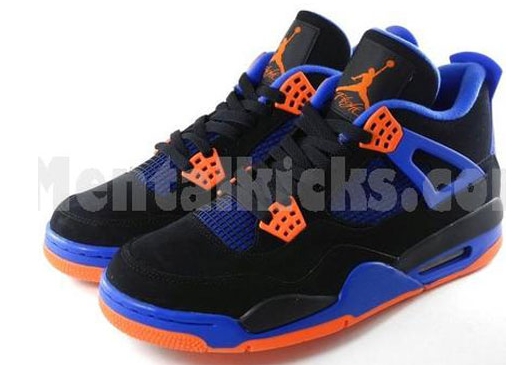 Do not adjust your screen or hit the 'back' button, you are actually on The Hoop Doctors and we only report the most authentic of sneaker news over here!
I feel the need to say that first because this pair definitely looks like something you'd find on Canal St due to its non-Chicago feel but the word is the Jordan IV will drop in this very Knicks colorway. If you follow our Kicks section you know that because the Jordan IV was used as the Air Jordan for 2011's Doernbecher campaign that 2012 would be chalk full of the Air Jordan IV.
The Black/Orange Blaze-Old Royal colorcode which will undoubtedly be known as the 'Knicks' Jordan IV and there is no word yet on when this will drop but if I had to guess I would expect a summertime release. Look for Spike Lee to be the first to wear it in public and for release info here when made available.
If you don't want to wait head over to MentalKicks to grab a pair early.