November 1, 2010 – THD Rumor Patrol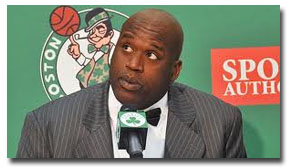 The big fella has been playing the team game better than anyone expected this season in bean town. Given the underperforming of Jermaine O'Neal thus far, the Celtics are hoping Shaq won't miss any significant time with this knee bruise….
Shaquille O'Neal missed his second straight practice on Monday with a knee bruise suffered late in Friday's game against the Knicks. He likely will miss Tuesday's game in Detroit.
"I doubt if he plays, but we'll see," coach Doc Rivers said. "If he has a chance, he'll make the trip."
O'Neal instead spent the time in the swimming pool with fellow injured big man Kendrick Perkins as both worked on therapy for knee injuries. The team did get good news on another O'Neal. Jermaine O'Neal returned to practice on Monday and will make the trip.
"He had a good practice and he'll play," Rivers said. "Obviously, it could swell or something. But right now, he looked good."
Rivers said Jermaine O'Neal, who practiced with the first team, will see a lot of time, as will rookie Semih Erden.
Jermaine O'Neal admitted he's been a disappointment so far, in part because of the injuries that have affected his conditioning.
Read more details via AP on NBA.com