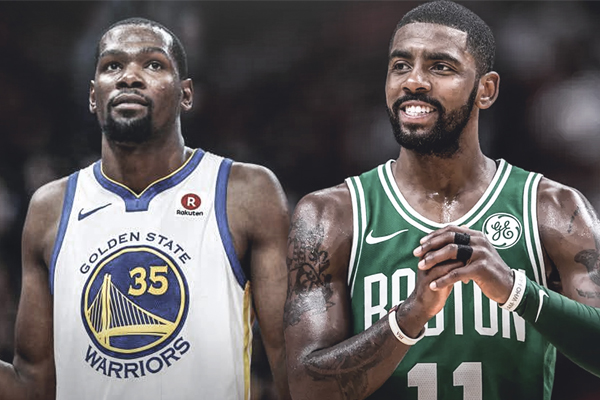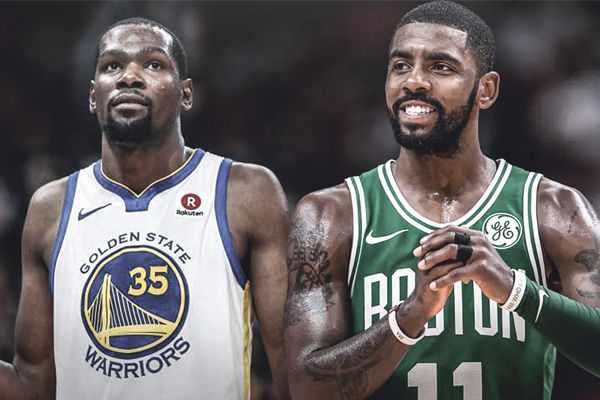 Kyrie Irving has made it official, he will not opt into his $21.3 million contract with the Boston Celtics for next season, allowing him to become an unrestricted free agent this summer.
What was already set to be one of the biggest summers in NBA history now has a brand new element with Kevin Durant's injury. Durant was viewed as the top free agent and the ultimate prize, but his injury could now affect other players.
According to the Boston Globe, Durant's injury may sway Irving into accepting the Celtics max offer:
As for the Celtics, they are going to make Irving a maximum offer, and perhaps their case gets stronger with Irving knowing that Durant is either 1. not going to be healthy for at least a year and 2. perhaps considering returning to Golden State. If Irving knows the chances of playing with Durant are remote, maybe he considers staying in Boston, where the chances of winning are higher than in New York.

So in the end, the Knicks could still wind up being terrible next season — even after all the handwringing about whether they might land Durant.
And what about the Knicks?
They already lost out in the draft lottery and were hoping to load up this offseason with two star players, but if Durant is not an option, then there is more pressue for them to get Davis.
If they don't get Davis or Durant, Kyrie Irving could sign with someone else, like the nearby Nets, leaving the Knicks with very few options.
What about the Brooklyn Nets?
As for Brooklyn, the question is whether the Nets would be interested in bringing in Irving (which means they would likely renounce All-Star D'Angelo Russell) and Long Island native Tobias Harris, who is also being pursued by the 76ers. Would the Nets want Irving as their free agent centerpiece without Durant or would they just choose to re-sign Russell, a restricted free agent who is four years younger than Irving, and pursue a much-needed small forward? Durant's injury completely changes the potential of a Durant-Irving free agent package, perhaps leaving Irving on an island to sign with a team by himself.
It was already going to be a fascinating free agency period in the NBA this summer. Durant's Achilles tendon injury and the likelihood that he won't play at all next season only makes things more intriguing.