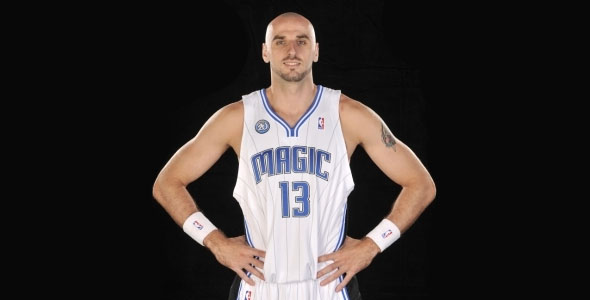 November 1, 2010 – Dr. Anklesnap
Orlando Magic's back up big man Marcin Gortat had some choice words for residents of the Big Apple about the cleanliness of their city. The Orlando Magic are set to play the New York Knicks in NY on Tuesday night, and Marcin Gortat hopes his stay will be quite short as he can't stand the smell of the city. I have a strong suspicion Knicks fans won't be welcoming Gortat and the Magic with open arms this trip after these public statements today:
NEW YORK, NEW YUCK: Gortat apparently isn't concerned with making any friends during his stay in the Big Apple. The Magic bigman said he loves the city, but that the trip to New York is one he still makes with mixed emotions.

"The only thing I remember from New York is – it's sad – but it's terribly dirty and it smells bad too," Gortat said. "I know New York fans will hate me probably [for saying that] … It's an incredible city, great city, great fans, a lot of fans, a lot of famous people … but one of the memories I've got is it's a dirty place and it smells bad."

If things go Gortat's way, he and his teammates will be able to mask the stench with the smell of victory when they leave Madison Square Garden.
And Gortat better be careful with his words, because these aren't the same New York Knicks of old. I'm not sure you want to give an opposing big like Amare Stoudemire the motivation to defend his new home and fans.