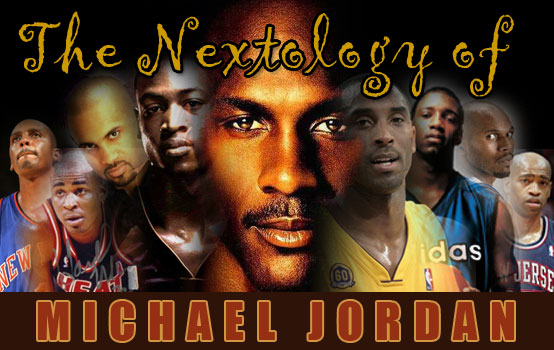 The Hoop Doctors love Michael Jordan. That's got to be pretty obvious to everyone by now. So in honor of Michael, and to discourage the media from pretending to be clairvoyant in the future when it comes to comparing young ballers to the greatest to ever play, every week I will be shining a little light on each of the media's shortcomings when it has come to these ridiculous and presumptuous predictions.
These posts are not intended to disrespect any of the players compared to Jordan in any way. They all had excellent careers and were or are tremendous basketball players. It is not your fault someone with very little knowledge of the game or even the skill to play this game decided to call you the "Next Jordan". Part V to my series called "The Nextology of Michael Jordan" will be looking at Dwyane "Flash" Wade:
But to take a good look at how different their careers were, I think you always have to start off by taking a birds eye view of the comparison by checking out their individual career stats. Here is the statistical comparison below in this chart:

| | | | | | | | | |
| --- | --- | --- | --- | --- | --- | --- | --- | --- |
| D.W. Stats: | 25.0 ppg | 4.9 rpg | 6.7 apg | 1.8 spg | 0.9 bpg | .484 FG% | .281 3P% | .773 FT% |
| M.J. Stats: | 30.1 ppg | 6.2 rpg | 5.3 apg | 2.4 spg | 0.8 bpg | .497 FG% | .327 3P% | .835 FT% |
Of all the players I have covered in this series thus far, Dwyane Wade reminds me the most of Michael Jordan. I can't pinpoint the source of the feeling exactly….maybe it's D-Wade's body, maybe it's his attacking the rim with a reckless abandon, maybe it's his steady improvement from year to year to always add a new weapon to his game, or maybe it's his ability to dominate the game on the defensive end as much as he does on the offensive end. While i'm not so sure he will ever deserve the title "The Next Jordan", especially after last season's poor performance and the failings of the Miami Heat, he certainly deserves to be mentioned in the same breath. At first glance D-Wade's 25 points per game career average may seem largely inferior to MJ's huge 30.1 career average, however you have to take a close look at the stats to see Wade is averaging 6.7 assists per game to Jordan's 5.3. In other words, they both are affecting the offensive in a huge way for their respective ball clubs.
I've made it clear throughout this series that I hate when the media anoints players as "The Next Jordan" as they are doomed to failure. But in D-Wade's case what frustrates me most are his flashes of brilliance that are Jordan-esque. Take the 2006 NBA Finals for example. In that series Dwyane Wade single-handedly carried the Miami Heat to the NBA Championship. He looked like the second coming of Michael Jordan himself, while he averaged 35 points, 8 rebounds, 4 assists, and 3 steals for the ENTIRE SERIES! Those are numbers that in the past only Jordan could possibly put up. Especially during the playoffs when it matters the most. One of Michael Jordan's greatest qualities in my mind was his ability to stand out when it counts. It was almost as if Michael Jordan could sense "the big moments" and turn it up a notch to perform at a level no one had ever seen from a player. That was made fact by Jordan's 6 NBA Finals MVP awards that he has to go along with this 6 NBA Championships. The very same trait is the only way I can explain Dwyane Wade's performance in the 2006 NBA Finals. It didn't matter how his team was playing, he would carry the load and will them to victory. Personally when I was watching that series I was thinking to myself "holy cow this is it…Dwyane Wade has become Michael Jordan…the next Jordan is actually here."
Then the 2006-07 season started, Miami struggled mightily and I woke up to reality. There will never be another Michael Jordan. I had bought into too much of what the hype machine was feeding me during the 2006 playoffs. Sure there are players that will come along and show flashes of brilliance that will make you wonder if they have the potential to be as good as Michael Jordan. But can they sustain it for an entire career, year after year? That has always been the problem with the label, you have to fight against the odds of injuries and sustain that high level of personal performance and domination, and couple that with team success for an entire career before anyone (in the know) will legitimately give you the title of "The Next Jordan". Dwyane Wade is still young and has a long career ahead of him to prove that his poor team success rate in 2006-07 and 2007-08 were aberrations caused by a combination of injury and roster, and will not define his career. But ask yourself this question…..If Michael Jordan in his prime was on the 2007-08 Miami Heat, and played 51 games of the season as Wade did, would the Heat have still only won a league low 15 games? I doubt it.
Tell us your thoughts below on Dwyane Wade being called 'The Next Jordan'…..Also stay tuned next week for Part VIII, the final installment in the "Nextology of Michael Jordan" series by Dr. Anklesnap, where I will be taking a look at Kobe Bryant and how he stacks up to his 'Airness'.
Links to Other 'Nextology' Posts: