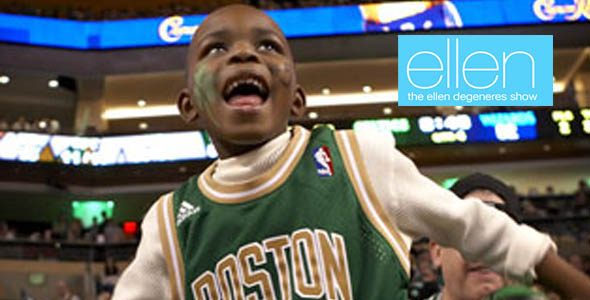 March 19, 2009 – Dr. J-Water
A few weeks ago we let you know about a little 7-year old Boston Celtics fan who had become a Boston Garden attraction and internet sensation because of his amazing dance moves he pulls off in the aisles during the Celtics home games. His name is Daylon Trotman, and quite often at home games the crowd in Boston gets all revved up when Daylon is featured on the big screen.
Well it is no longer just a Boston Garden secret, and even the internet and media buzz can't compare to the attention recently received by little Dancing Daylon. The Celtics dancing phenom this week was asked to appear on the Ellen DeGeneres show to show off his moves and chat about how and why this dancing sensation for him got started. Ellen was also kind enough to give Daylon and his Mother season's tickets to the Boston Celtics for the 2009-10 season.
Very cool story, very cool kid. Slick moves Daylon: