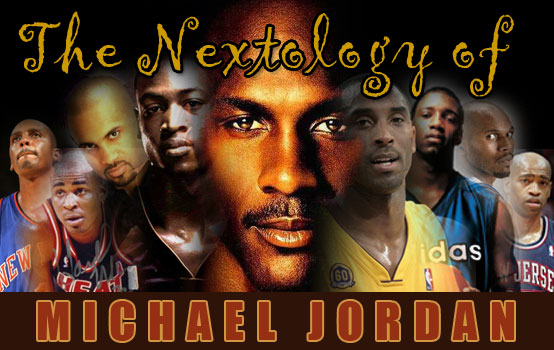 The Hoop Doctors love Michael Jordan. That's got to be pretty obvious to everyone by now. So in honor of Michael, and to discourage the media from pretending to be clairvoyant in the future when it comes to comparing young ballers to the greatest to ever play, every week I will be shining a little light on each of the media's shortcomings when it has come to these ridiculous and presumptuous predictions.
These posts are not intended to disrespect any of the players compared to Jordan in any way. They all had excellent careers and were or are tremendous basketball players. It is not your fault someone with very little knowledge of the game or even the skill to play this game decided to call you the "Next Jordan". Part V to my series called "The Nextology of Michael Jordan" will be looking at 'TMac' Tracy McGrady:
But to take a good look at how different their careers were, I think you always have to start off by taking a birds eye view of the comparison by checking out their individual career stats. Here is the statistical comparison below in this chart:

| | | | | | | | | |
| --- | --- | --- | --- | --- | --- | --- | --- | --- |
| T.M. Stats: | 22.1 ppg | 6.1 rpg | 4.7 apg | 1.3 spg | 0.9 bpg | .436 FG% | .339 3P% | .749 FT% |
| M.J. Stats: | 30.1 ppg | 6.2 rpg | 5.3 apg | 2.4 spg | 0.8 bpg | .497 FG% | .327 3P% | .835 FT% |
Unlike most of the players that have been compared to Michael Jordan over the years, Tracy McGrady did not attend College. Along with Shawn Kemp, Kobe Bryant, and Kevin Garnett, he was one of the early 'straight from high school' success stories in the NBA. Early in his career with the Toronto Raptors people started to recognize his amazing potential as a scorer, but he was doing it in bunches and not all that consistently, so there were certainly no immediate comparisons to the great 'Air Jordan'. It wasn't until McGrady left Toronto and got out from under the shadow of his cousin Vince Carter that the world, and his new team the Orlando Magic, saw just how much potential McGrady really had. Tracy McGrady was a scoring machine! His last year in Toronto he scored only 15 points per game, but in his first year in Orlando he broke out huge with a 27ppg scoring average.
The next few years McGrady became known as one of the top scorers in the league consistently finishing in the top 2 or three in the scoring race. In 2002-03 he scored an average of 32.1 points per game over the entire season. This is when the comparisons to the greatest of all time, Michael Jordan, started for McGrady. Hell, in one particular regular season game in 2004 against the Washington Wizards, Tracy McGrady scored 62 points for his career high, BUT HE DID IT IN ONLY THREE QUARTERS OF PLAY! The game was out of reach so his coach sat him for the fourth quarter. This was unlike the game another great player Kobe Bryant scored 81 points against the Toronto Raptors. Many consider Kobe's 81 point performance the greatest scoring performance of the modern era. But even though the Lakers were well up on the Raptors, the Lakers Coach Phil Jackson kept Bryant in the game to see what he could do. I would love nothing more than to know how many points Tracy McGrady would have had in that one single game against Washington on March 10, 2004 if his Coach had let him play the 4th Quarter. Maybe it would have been McGrady with the greatest scoring output of the modern era?
But there were two BIG things that always troubled me about the comparisons with McGrady and Jordan. The first was that Tracy McGrady wasn't a winner. His team was a loser in Toronto, his team lost consistently in Orlando, and even once he was moved to Houston to play with Yao Ming his team lost. Sure a lot of fans that support McGrady may point to the fact he has always been hindered by injuries, such as his chronic back spasms, or weak ankles. But none the less McGrady has failed to perform in the playoffs on the rare occasions he has been there, his team never having made it past the first round. McGrady will be lucky to play with Houston if they get as far as the 2nd or 3rd round before he retires, let alone near the greatness of MJ with his all-time highest playoff scoring average, 6 NBA titles, and as many NBA Finals MVP's.
The second thing that bothered me back when McGrady was being compared to Jordan, was DEFENSE. MJ was one of the best defenders in the league, year after year. He was defensive player of the year in 1988, and was a 9 time All-defensive First Team. McGrady on the other hand has consistently been considered one of the worst defenders on the floor on any given night. And although he may post decent numbers in blocks and steals due to his athletic ability, he is almost always noted for his poor defensive effort given at stopping his assignment. There have been many opposing NBA Coaches that have keyed in on this fact and exploited McGrady and his lack of defensive focus. It almost has seemed in the past that McGrady would rather get into a one-on-one shootout, where neither player plays defense. This has often been the focal point of the McGrady critics who feel he never lived up to his full potential.
So for those of you who have been following this "Nextology of Michael Jordan" series carefully, you will notice we are sort of building up to something expected. We are now down to our final two subjects of comparison. That's right folks, Dwyane Wade and Kobe Bryant. Stay tuned for the much anticipated comparison…..who will stack up?
Tell us your thoughts below on Tracy McGrady once being called 'The Next Jordan'…..Also stay tuned next week for Part VI in the "Nextology of Michael Jordan" series by Dr. Anklesnap.
Links to Other 'Nextology' Posts: