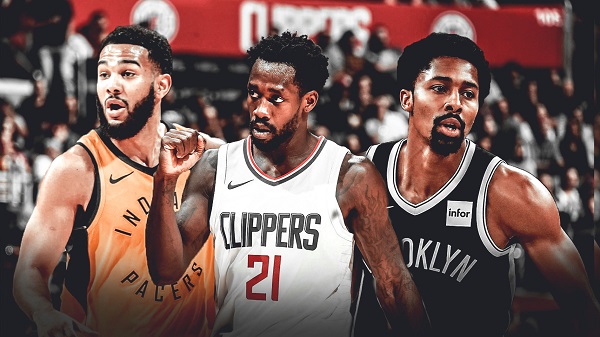 The Phoenix Suns added a lot of talent this off-season and a solid veteran wing player in Trevor Ariza in free agency, but they still have one massive need though, a point guard.
The current list of point guards on the Suns roster is Elie Okobo, Shaq Harrison, Isaiah Canaan and DeAnthony Melton…yikes.
The Suns are attempting to pull themselves out of the NBA gutter and while the majority of their off-season moves are helping them trend in that direction, they likely won't rise at all in the standings in the loaded western conference without a veteran point guard.
According to local Phoenix reporter John Gambodoro of 98.7 FM, they have three guys they are now targeting.
"Among targets, the Suns have discussed the Los Angeles Clippers' Patrick Beverley, Indiana's Cory Joseph and the Nets' Spencer Dinwiddie."
Beverley feels most likely as the Clippers currently have 17 players with at least partially guaranteed contracts on their roster, nine of which being guards, and someone needs to go. He would also be the best fit alongside Booker.
Joseph has been a top-tier backup point guard and spot starter for years and while like Beverley he only has one year left on his deal, he could be more likely to be available a few months into the season if Pacers 1st round pick Aaron Hoiday is coming along and the Pacers are happy with Collison and Holiday as their PG rotation.
Spencer Dinwiddie took full advantage of the opportunity the Nets gave him last season, averaging 12.6 points and 6.6 assists in 28.8 minutes last season.
The Suns have future draft picks, T.J. Warren and possibly even Dragan Bender as available trade pieces and will need to try and find a way to acquire a veteran point guard soon.
Dinwiddie would be the best option long-term, but Beverley feels like the most realistic outcome.