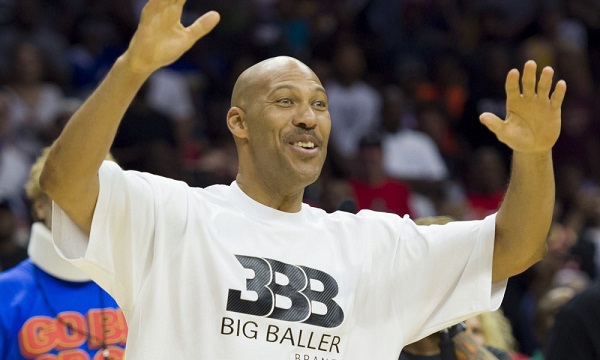 LaVar Ball is hyperbole, self-confidence (and delusion) personified. He has been in the news cycle on an almost daily basis over the past year or so as the incredibly outspoken and abrasive father to current Los Angeles Laker Lonzo Ball, with his claims about Lonzo's and his own talent.
LaVar has utilized the media attention to launch and market his own shoe and apparel company, Big Baller Brand, and has seemingly done so successfully.
He is now trying to take the brand and his stature in the world of basketball to another stratoshpere with his most recent venture, to start a professional basketball league.
The league would be for nationally ranked and highly regarded high school players who want to make some money while they wait to be eligible for the NBA Draft instead of attending college.
ESPN's Darren Rovell first reported the wild idea:
"LaVar Ball said Wednesday that he's launching a basketball league for nationally ranked players who have graduated from high school but don't want to go to college.

Ball said his Junior Basketball Association — which he said is fully funded by his Big Baller Brand — plans to pay the lowest-ranked player a salary of $3,000 a month and the best player $10,000 a month. Ball is looking for 80 players to fill 10 teams that will seek to play at NBA arenas in Los Angeles, Dallas, Brooklyn and Atlanta.

"Getting these players is going to be easy," Ball told ESPN. "This is giving guys a chance to get a jump start on their career, to be seen by pro scouts, and we're going to pay them because someone has to pay these kids."
In reality, this idea is insane and would absolutely never work because of all the powers that be in high-level basketball in this country, i.e. the NCAA and NBA, wielding all of their power to shut down this idea before it ever got off the ground. I am sure they would make it very hard for the league to get a television deal to make any real profit and could even black list the players who would join this league.
In theory, this is a creative and I'll say it, good idea, if it were done correctly (not by LaVar Ball) and was able to garner the necessary support.
The NBA seems to be trending toward altering its draft eligibility rules, but in the current corrupt system, these high level players are making millions of dollars for their institutions for a season, going to class for a semester and aren't being paid for their services unless it is under the table and not done in an official and fair way.
The current system for these kinds of players is flawed and the idea that these players are student-athletes is a complete facade.
It will never work and is the most pie in the sky idea that Ball has had so far, but it is far from his worst idea or proclamation.