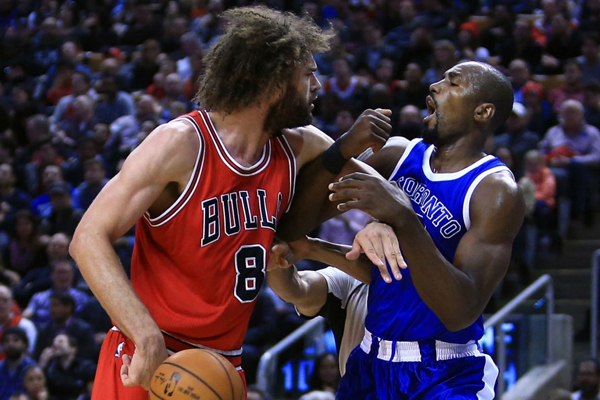 In the last decade or so, the league has taken measures to punish players severely for things that haven't always seemed as serious. The punishment doesn't always fit the crime. That's why it's somewhat strange to learn that Robin Lopez and Serge Ibaka were only suspended one game for their altercation Tuesday evening.
Their dust up wasn't exactly Malice at the Palace, but actual punches were thrown. Compubox says none were landed, but still, punches were thrown. You don't typically see that in today's NBA. Both teams are playing for playoff implications, so this may come into play. Especially for the Bulls who are on the outside looking in.
The incident, for which Ibaka and Lopez were assessed technical fouls and ejected from the game, occurred with 3:58 remaining in the third quarter of the Raptors' 122-120 overtime win over the Bulls at Air Canada Centre on March 21.

Lopez will serve his suspension tonight when the Bulls host the Detroit Pistons at United Center. Ibaka will serve his suspension on Thursday when the Raptors visit the Miami Heat at AmericanAirlines Arena.
H/T: nba.com