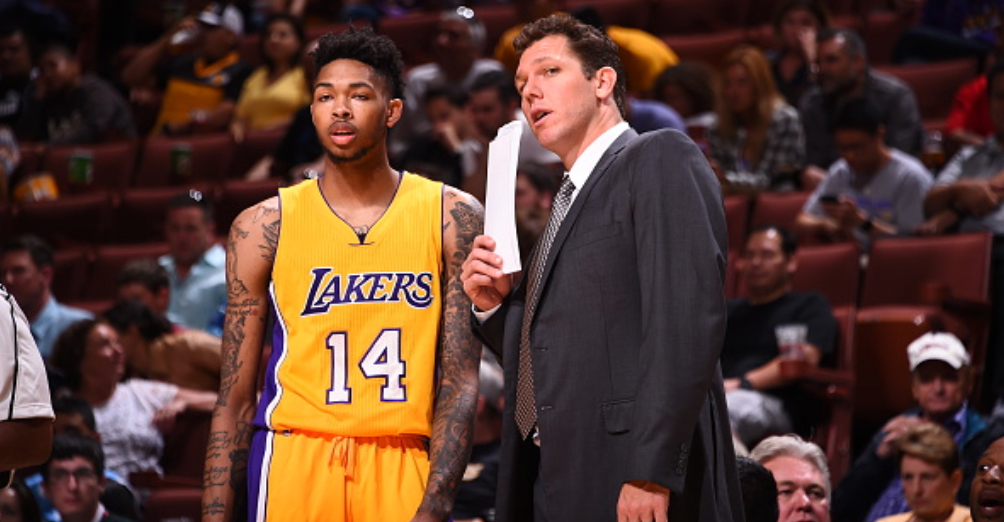 Brandon Ingram is 19 years old, but the Los Angeles Lakers are pushing the rookie to carry himself like he's 29.
Head coach Luke Walton has been impressed with the newbie's consistently gritty efforts. Many of the numbers won't support it, but Ingram is already good. Though his three-point touch—and perhaps the speed of his release—need some polish, he's playing his ass off. He works on defense, shimmying between assignments and functions, and isn't getting blitzed as frequently when assuming the toughest covers.
Walton has noticed Ingram's diligence to the point he's singling him out in front of everyone amid lethargic turmoil, per the Orange County Register's Mark Medina:
Once the Lakers gathered in the locker room, Coach Luke Walton did not just express his displeasure with his team's play.

He became so disgusted with the Lakers' 30-point halftime deficit to the Clippers on Tuesday that he informed his starters they would begin the second half on the bench. Walton then turned to rookie forward Brandon Ingram.

"It (stinks) for you that you have to sit out, too," Walton said. "You're out there playing your tail off."

…

"Even if you're playing well yourself, we need more out of you. Grab someone by the jersey, lift your teammates up," Walton said. "It was more his work ethic that allows him to be that guy. I don't know how vocal he's ever going to get. But we're going to keep pushing him to keep seeing what we can get out of him with that side of the leadership role."
Expecting veteran leadership out of a teenager is a lock to ask. But it says even more about how highly the Lakers regard Ingram.
D'Angelo Russell is the better player now, and the Lakers should end up with another top-three prospect this summer, but no one talent is more important to the future than Ingram. The league is all about combo wings who bust their tail on defense, score off the bounce, drain triples and create shots for their teammates. Ingram has a chance to excel in each one of those areas, and you can see it now, like Walton, even when he's struggling, even when shots aren't falling, even when the Lakers are playing like absolute crap.
Put more simply, Ingram is special, and it may not be long before he's the best player this team employs.