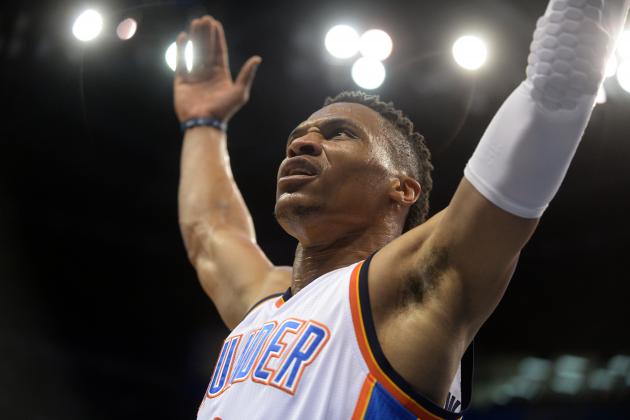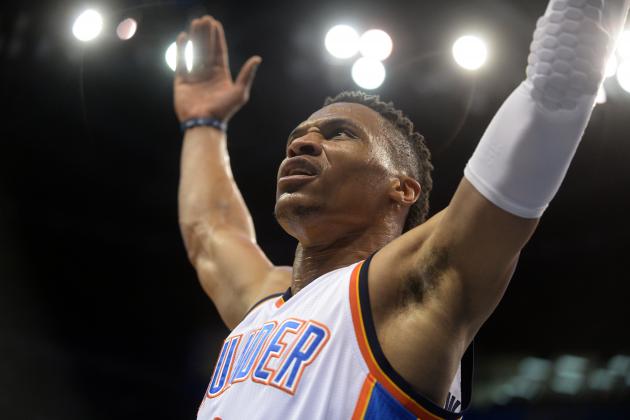 Yesterday was an Independence Day that will live in infamy for those living in the state of Oklahoma and not for good reason (unless you live in Seattle or Northern California). Much to the chagrin, horror and heartache of Thunder fans across the country, Kevin Durant chose to celebrate his July 4th by declaring his independence from the Thunder organization and the beginning of his journey as a member of the Golden State Warriors.
Jerseys were burned, minds were blown and the Thunder came to the cold hard reality that the face of their franchise and the identity that they had been shaping for 9 years was gone in an instant.
After pouring out some liquor for the Durant and Westbrook era in OKC, it was time for the Thunder front office to come to and realize that this exact same scenario and nightmare could play out in exactly one year from now: The Thunder losing another superstar in Russell Westbrook for nothing.
Early reports indicate that Westbrook has stated that there is zero chance he will sign an extension with the Thunder before entering free agency in 2017.
There's apparently 'no chance' Russell Westbrook will re-up with #Thunder before free agency https://t.co/GQ0BlsNEUP pic.twitter.com/J4YXaEoL9j

— Dime Magazine (@DimeMag) July 5, 2016
The Thunder should do their due diligence to see what it would take for Westbrook to re-up for at least another year, but if they can't make any headway by September they need to deal him, as crazy as that sounds. A team that was a few minutes away from the NBA Finals now may be on the verge of a rebuild in a matter of months.
Westbrook's current value as a soon to be 28-year-old superstar and triple-double machine is through the roof and the Thunder would have no shortage of suitors willing to pool whatever assets they can to land a top five player in the NBA in his prime.
The Thunder not only have to strike while the iron is hot because the clock is ticking with Westbrook's impending free agency, but the clock may be ticking on his ability to play on an elite level as well.
Westbrook has barely missed any time in his career because of the timing of his knee injuries in each meniscus, one of which coming in the 1st round of the 2013 NBA Playoffs, and his style of play as quite possibly the most explosive, aggressive and physical point guard we have ever seen is not built to last into his 30s.
Derrick Rose has never been able to alter his game and his effectiveness has suffered greatly as a result. Westbrook plays with even more reckless abandon and disregard for his body and he is a knee injury or two away from becoming a shell of the player he is now (which can be said about a lot of players I know).
Other examples of player who played with Westbrook's sort of aggressiveness and disregard for their health and broke down earlier than expected were Allen Iverson and Isiah Thomas. Neither of which was as aggressive or explosive as Westbrook, which means they were putting less strain on their bodies on a daily basis as well. Dwyane Wade is an example of player who used to drive to the rim and put his body on the line night after night but became a smarter player and relies more on angles, floaters and turn around jump shots as he has gotten older to stay effective.
Whoever signs Westbrook to a $200 million mega deal for five years at the age of 29 may regret their decision if he isn't able to be anywhere as effective in two to three years as his body starts to wear and doesn't enable him to dominate the game in the same fashion anymore.
The league is flush with cap space and easier opportunities to make trades and salaries work more than ever. The Thunder would have their pick of the litter on any sort of package or strategy of how they would prefer to retool or rebuild their franchise moving forward.
Here are some potential packages that could be available to the Thunder through trade:
Boston: Any combination of Isaiah Thomas/Avery Bradley and Jaylen Brown/Jae Crowder, Kelly Olynk/Jared Sullinger and Brooklyn and Boston's picks in 2017 and 2018.
Phoenix: Bledsoe, Bender/Chriss, Len, Warren and the 2017 1st rounder from the Suns along with Miami's 2018 or 2020 1st rounder
Minnesota: Kris Dunn, Zach LaVine and Minnesota's 2017 and 2018 1st Rounder
Milwaukee: Khris Middelton, Jabari Parker, John Henson, Milwaukee's 2017 1st rounder
Los Angeles Lakers: DeAngelo Russell, Brandon Ingram, 2017 1st Rounder
Out of the teams listed above it seems as though Westbrook would be most likely to re-sign in Los Angeles or Boston.
It may not be what Thunder fans want to hear right now, but when you take the emotion out of the equation and project what is best for the franchise moving forward, trading Russell Westbrook may be the best course of action.