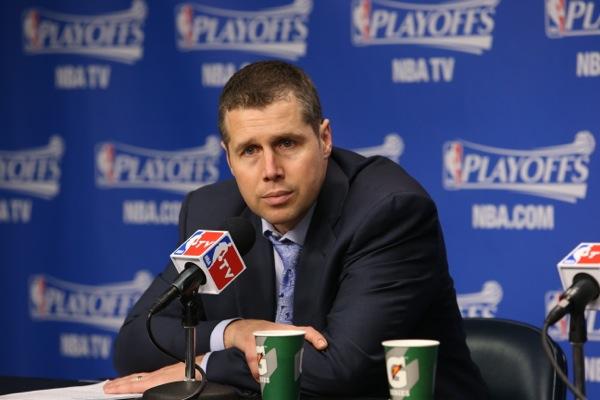 Dave Joerger was, officially, canned by the Memphis Grizzlies on Saturday.
It looks like he'll be unemployed for less than a week.
From The Vertical's Adrian Wojnarowski:
The Sacramento Kings are progressing rapidly in discussions with Dave Joerger, with a Monday meeting that will include owner Vivek Ranadive being the final hurdle to Joerger's hiring as head coach, league sources told The Vertical.

The Kings fetched Joerger and his family in a private jet for a Sunday visit in Northern California, and Joerger and Kings vice president of basketball operations Vlade Divac spent considerable time discussing a partnership, league sources said.
The framework of a contract has been moving into place over the weekend, taking the shape of a three-year deal in the neighborhood of $4 million a year, league sources said.
Marc Stein of ESPN.com essentially confirmed these findings:
ESPN sources say the Kings and Dave Joerger are discussing a four-year, $16 million deal that will hinge on how the next round of talks go.

— Marc Stein (@ESPNSteinLine) May 9, 2016
It's weird, albeit fitting, that the Sacramento Kings were previously staging one of the most exhaustive coaching searches out there only to now flirt with someone who wasn't even available as of a few days ago. Maybe that was their plan, though.
Sacramento could have been smitten with Joerger all along and was just looking to kill time until his future in Memphis was decided. Or maybe the Kings didn't realize how much they wanted Joerger until they could have him.
Whatever the case, it looks like one more coaching vacancy will bite the dust. And it'll be interesting to see how this impacts some of the other big names out there, specifically David Blatt and Frank Vogel, who now seem to have one less option at their disposal.