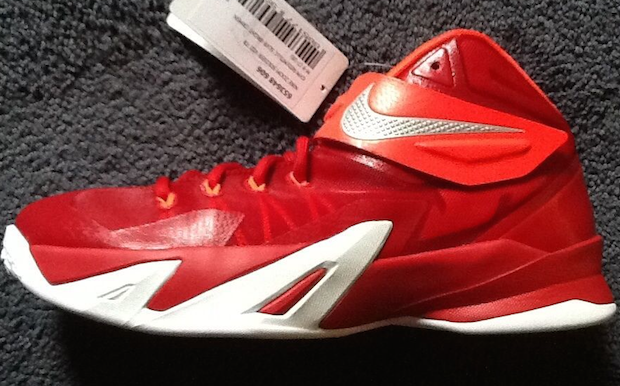 Most NBA players don't ever get a sneaker named after them and only see their names on Player Exclusive shoes. Players who occupy that already small space almost never have multiple versions release, but LeBron James is anything but common. Check out a sample version of his eighth team sneaker; the Nike Zoom LeBron Soldier 8.
When LeBron James first came into the league in 2003 he already had a huge sneaker endorsement deal with Nike that not only included a signature shoe, but also takedown models and team sneakers. The current LeBron Soldier, the Zoom Soldier VII (7) has been on the feet of LeBron for more that 3x more the games this season than his current premiere sneaker the LeBron 11.
Back in December we did a post showing a few new 2014 Nike Basketball sneakers but here we get more angles at the Zoom Soldier 8. The Nike Zoom Soldier series has always been popular but the last two silhouettes has enjoyed peak popularity of the line. Expect the Nike LeBron Soldier VIII (8) to be met with warm reception when released.
I have this theory that LeBron James likes sneakers with straps but since they haven't been incorporated into the last couple models of his signature sneaker he uses the LeBron Soldier series so he could stay strapped. Just my .02 but it fits the footwear history of King James.