September 17, 2012 – The Hoop Doctors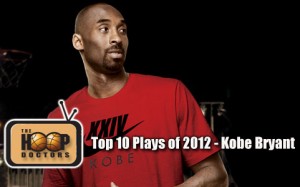 We've done a variety of recap highlight mixes this summer, showcasing the amazing 2012 lockout season. But one player who went off in the scoring department again this season that hasn't received as much love as he should have from "THD Video", is Kobe Bryant. Not to worry though, we got you covered Lakers Nation. Check out this Top 10 Kobe Bryant plays from 2012.
**Oh, and my guess is, with the addition of the play making wizard Steve Nash to the Lakers, 2013 will have no shortage of Kobe Bryant highlight plays either….