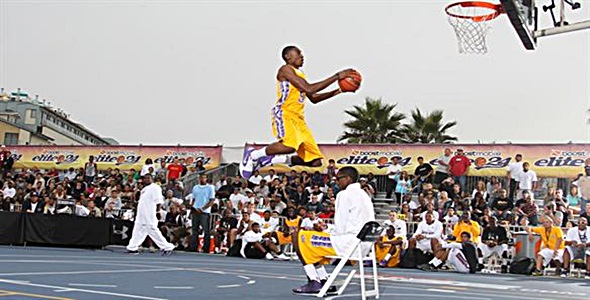 August 30, 2010 – Allen Moll
While most high school hoop fanatics can't wait for the McDonalds All American Game each season to catch a glimpse of the college ranks incoming diaper dandies, Boost Mobile has succeeded in wetting the appetites of hoop fans by putting on the Boost Mobile Elite 24 Game for 5 years running. The event showcases not only the best HS seniors, but the top 24 players in the country, regardless of class, with this year's event being held in Venice Beach, California.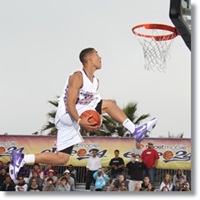 First on deck was the Dunk Contest on Friday evening. Universally regarded as the high school ranks best dunker, Deuce Bello, hoped to show off his dunking prowess in the event against some stiff competition featuring the likes of Arizona commit Nick Johnson, local Cali product Amir Johnson(Findlay Prep), Stephen Maxwell(Taft HS), LeBryan Nash(Lincoln HS, #10 player in class), Skills Competition winner Bradley Beal(Chaminade College Prep), Norman Powell, Gabe York, and even Jahii Carson, the diminutive point guard headed to Arizona St, who drew instant comparisons to the NBA's 3 Time Dunk Champion Nate Robinson.
In the early rounds, Nick Johnson seemingly payed homage to current TNT analyst and former NBA Dunk Contest regular Kenny "The Jet" Smith, by pulling off a sweet 180 dunk after bouncing the ball between his legs, then off the backboard, receiving a perfect score from the panel of celebrity judges that included the Raptors' DeMar Derozan, Bucks' Brandon Jennings, and Wizards' John Wall.
After some impressive slams by Maxwell and Garrett, the event really took off thanks to Deuce Bello and and fellow Boost Mobile Game competitor and Kevin Durant clone, Quincy Miller's collaboration in the 2nd round, which had everyone in attendance on their feet. Miller, being used as a prop came out to assist his HS teammate at Westchester Country Day by rocking shades, while the PA system blared Soulja Boy's "Pretty Boy Swag." With Bello racing towards the basket, a seated Miller fed him a perfect mid-air pass directly overhead, as Bello amazingly had enough hang-time to windmill the rock, in a dunk which proved to be the winning slam of the event.
You can check out a video of ESPN's exclusive coverage of the Boost Mobile Dunk Contest here.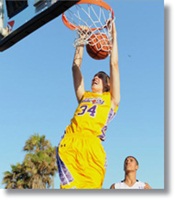 As for the actual game on Saturday, it featured an inordinate amount of dunks, virtually zero defense, a crowd silencing injury to the #2 rated Austin Rivers, and another impromptu Kentucky commitment by a top 20 player.  In a bit of a surprise, elite level PF prospect Kyle Wiltjers announced at halftime that he will play for the John Calipari led Wildcats following his senior season at Jesuit HS in Portland, Oregon.  To the surpeise of many, Wiltjer committed in spite of never making an official visit to Lexington.
As is not always the case in all star games, virtually every player on both rosters got equal time to shine as Myck Kabongo(committed to Texas) along with Wiltjers were named MVPs of the winning Raymond Lewis squad by tallying 13 points and 10 assists, and 20 points respectively. Kabongo is constantly drawing comparisons to Dwyane Wade for his amazing abilities as a point guard to get to the rack and to dish the rock with the best in the class, hence his #7 overall rating in the '11 class. Wiltjers also has an amazing skill-set as a 6'10 PF, with some ball handling skills and an impressive jump-shot to boot.
On the Marques Johnson team, chosen MVP's James McAdoo(UNC commit), nephew of former NBA MVP Bob McAdoo had 10 points and a game high 11 boards, while Boston Celtic head coach Doc Rivers' son Austin, tallied 15 points, 5 rebounds, and 4 assists, in a losing effort. Given the nickname "The Medic" by the voice of the Boost Mobile Game, the legendary Bobbito Garcia,since his dad was is still known as "Doc" and Austin put on a clinic, the younger Rivers brought the event to a thudding halt when he came down hard on his right wrist after a lay-up attempt just after halftime. But showing toughness, the smooth shooting rising senior returned to blow by defenders off the bounce with his healthy left hand to help share MVP honors with McAdoo.
Tons of celebrities and NBA players alike were in attendance like NFL Hall of Famer Michael Irvin, NY playground legend Pee Wee Kirkland, former Celtic and Rucker Park legend Charlie Scott, as well as current NBA players Wall, DeRozan, Hassan Whiteside, Tyreke Evans, and Dorell Wright. Dunk Contest champ Deuce Bello also impressed in the game by showing an improved handle and shooting stroke(12 points and 4 rebounds) to go along with his insane dunking prowess. The most impressive throw-downs were pulled off by the aforementioned Jahari Carson(Arizona St), who bounced the ball to himself on the break before throwing down a thunderous 2 handed oop andof course Bello, who brought back memories of Dominique Wilkins with a dizzying windmill off of one dribble. Seemingly the only player focused on defense was Syracuse commit Rakeem Christmas, who finished with 4 blocks, including 3 in the first half.
One thing is for sure, that the college ranks will once again be flooded with talent for the '11-'12 season. Let's just hope for everyone else's sake that John Calipari doesn't grab any more top tier players off the board.  He already has 4 of the Top 20 in hand.
Allen Moll has been a lifelong NBA and NCAA College Basketball fan who watches and studies games religiously, and coaches youth basketball in his native Lehigh Valley region of Pennsylvania.  Allen also provides content to Bleacherreport.com, Upperdeckblog.com, in addition to being a tenured NBA and NCAA columnist for TheHoopDoctors.com.