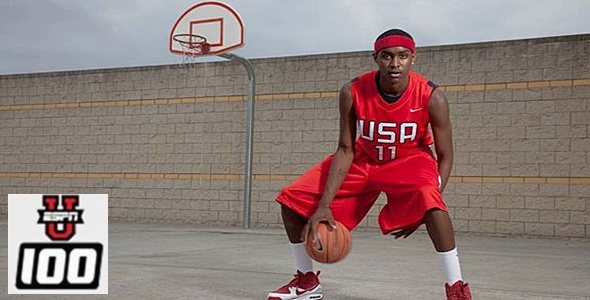 May 4, 2010 – Allen Moll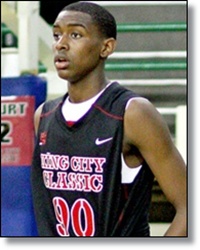 I pause to make comparisons at who is the next Magic, Bird, or Wilt, since the up and coming player almost never lives up to the enormous hype of being compared to one of the all-time legends of the hardwood. After all, we once ran a series titles the Nextology of Jordan, where we proved that a number of players from Harold Miner, Dwyane Wade, and even Kobe Bryant couldn't even come close to the GOAT.  Recently, NC state commit, the high flying CJ Leslie has even been touted as the next Kevin Garnett .
With most of the 2010 HS recruiting class already signed and committed to a school for next season, maybe it's time to focus on one player who has been turning heads and drawing comparisons to this past season's NBA scoring champion, Kevin Durant. Listed at 6'9 inches, with a slender 210 lb frame, and with an extremely long wingspan, rising junior Quincy Miller initially resembles Durant in stature and build. But after witnessing his remarkable abilities on the court, he arguably is a mirror image of the 3rd year pro, now playing for the OKC Thunder.
Miller, just like Durant, seems to be able to score with ease and appears to glide to the basket better than most other prospects in the 2011 class. Currently as the #3 ranked overall player by Rivals, the skilled forward is described as being able to score in a variety of ways, but is most effective beating opponents off the dribble or draining threes from the perimeter. After playing at Quality Education Academy in Winston-Salem, NC through his junior year, Miller has decided to transfer to Westchester Country Day School to play with some of his AAU teammates, most notably Deuce Bello, who became famous for doing a two footed eastbay dunk in a HS game, and Ike Nwamu, who is one of the nation's best backcourt dunkers, as evidence of his junior season highlight mix. Watch out for Westchester Country Day for next season, they should be a handful.
As far as recruitment, Miller is currently mulling over offers from Kentucky, Wake Forest, Georgetown, Oklahoma, and Duke, although with reports of John Calipari in his ear, he is considered a UK lean. Miller teaming up with newly committed Marquis Teague and the #1 player in the class, Michael Gilchrist, could make Kentucky's 2011 class the #1 ranked in the nation.
You be the judge. Does Miller remind you of Kevin Durant?
Quincy Miller Highlights from EYBL action(via – OneEntertainmentHoops.com):
Allen Moll is an avid NBA and College Basketball fan who watches and studies games religiously and coaches youth basketball in his native Lehigh Valley region of Pennsylvania.  Allen is a regular columnist for thehoopdoctors.com, Bleacherreport.com, UpperDeckblog.com, and his own site, Hoops Haven.