February 1, 2010 – Dr. J-Water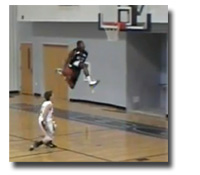 NBA ballers have been evolving the 'East Bay Funk' in dunk contests for years now. First J.R. Rider pulled it off coming from the baseline to dazzle the crowd in the 1994 Dunk Contest, then Vince Carter did the east bay off an alley-oop in 2000, but then J-Rich took it one step further in 2003 by doing a reverse east bay funk and finishing with his left hand.
But these players all have one thing in common. They pulled off these dunks in a dunk contest with no defense as distraction. Can you imagine someone pulling off the east bay funk in a game? How about a 17-year old high school kid at that? Unbelievable? Start believing.
Here is Westchester Country Day's 17 year old Deuce Bello doing an eastbay funk off 2 feet, IN A GAME! Deuce made headlines last year with the double alley-oop dunk that was featured on Sportscenter. Did I mention he is only a junior in high school? (Class of 2011). Wow, that's sick.
(H/T to HoopMixTape.com for the Video)