August 29, 2010 – THD Rumor Patrol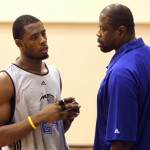 "Patrick Ewing Jr. is back with the team where his father became famous.
The team says the former Georgetown star signed with the New York Knicks as a free agent Friday. Terms of the deal were not disclosed.
Ewing was the 43rd pick of the 2008 draft by Sacramento, but wound up with the Knicks through a series of moves. He spent the 2008-09 season in the NBA Development League but missed all of last season because of injuries.
The 6-foot-8 forward averaged 4.8 points in four games for the Knicks' summer league team. Ewing's father played 15 seasons for the Knicks before finishing his career in Seattle and Orlando. The elder Ewing appeared in 11 All-Star Games with New York."
via NBC New York