August 30, 2010 – THD Rumor Patrol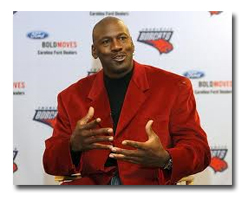 "Michael Jordan and his Bobcats NBA team will donate $250,000 to middle-school athletics programs in Charlotte, North Carolina's largest city.
The Charlotte Observer says the NBA hall-of-famer and North Carolina native will announce the gift Monday.
Jordan, who made a fortune playing in the NBA and marketing his image as one of the world's best-known athletes, talked about being a contributor to the Charlotte community when he bought the Bobcats this spring.
Charlotte schools cut $1.25 million cut from athletics programs this year and school officials announced a plan to charge students $50 for middle-schoolers and $100 high-schoolers who play."
via NBA.com