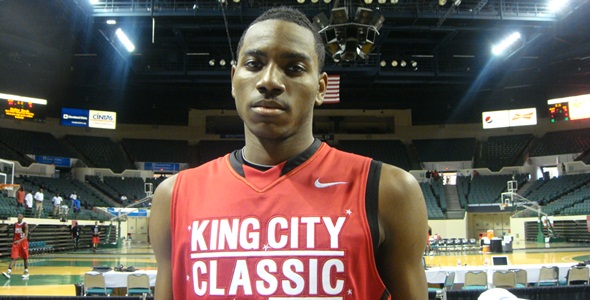 August 13, 2010 – Allen Moll
For the 2nd consecutive year, coach Jim Boeheim and his staff in upstate New York have secured a commitment from either the number 1 or 2 center prospect in the high school ranks. The Orange already have the #6 ranked recruiting class in the nation for 2010, led by 7'1, 270 lb international big man Fab Melo, already trickling onto campus, but the big news last Friday was that they got a verbal commit from 6'10 and 230 lb elite level, shot-blocking center Rakeem Christmas for 2011, who is universally regarded as the best big man in the entire class.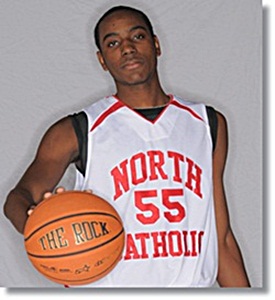 What makes the story interesting is that Christmas, who's older brother Dionte was a star at Temple University from '05-'09, was thought to be leaning towards Georgetown, joining that long list of great big men like Patrick Ewing, Dikembe Mutombo, and most recently Greg Monroe. Surely "Cuse" fans everywhere must be ecstatic that they were able to steal away such a prized recruit from their long-time Big East Conference rivals. Christmas chose the Orange over other top tier schools like Florida, Florida International, Oklahoma, and Texas, to presumably stay on the East coast near his Philadelphia roots.
In actuality Rakeem is a native of St. Croix, ironically the same island which was once home to Tim Duncan of the San Antonio Spurs. Surprisingly, while growing up, Christmas was more into baseball than hoops quite simply because there just isn't much access to basketball courts on the island. Upon moving to Philadelphia as an 8th grader, he took a liking to the hardwood and was immediately recruited by coaches to join the school team. Even though he was a few inches taller and a bit more athletic than most of his opponents, Rakeem struggled early on to pick up all of the nuances of the game and actually played very sparingly until high school. As a freshman, he was immediately promoted to the JV squad as he honed his skills.
Where Christmas really began to shine was in his sophomore season, where getting his first starting assignment for North Catholic HS he dominated by tallying a triple-double, consisting of 16 points, 13 rebounds, and an impressive 10 blocks, most of highlight reel material. What made the feat more impressive that the game was so far out of hand that he compiled those impressive numbers even though he sat out the 4th quarter. Christmas went on to build his legacy as the best defensive player in the '11 Class by being chosen for the prestigious '10 Boost Mobile Elite 24 Game and is a shoo-in as a McDonald's All American for this season.

As far as his game, he is a Dwight Howard clone, with similar built and defensive minded game to boot. Right now his defense outweighs his offense, but is more than capable of nailing a turnaround jumper with limited range out to 13-15 feet. But what truly makes him an intriguing prospect his his tremendous ability as a defensive stopper. More than anyone else in the class, he will swat shots and protect the rim with ease. Considering that he will be playing in Boeheim's now famous 2-3 zone, his defensive prowess will be even more enhanced. Check out Rakeem showing out at last year's King City Classic.
There's no doubting that his native Philly brethren like "Scoop" Jardine and Rick Jackson, already on the Syracuse roster, had a part in convincing Rakeem to travel 4 hours North to play his home games at the Carrier Dome, but Trevor Cooney, another highly touted guard prospect already committed in 2011, reportedly helped to convince the 5 star prospect to join him up North. Rounding out another Top 10 recruiting class for 2011 is another 5 star shooting guard, Michael Carter-Williams, who is the #16 rated player by Rivals.com. The trio should provide a nice inside-outside como offensively, similar to how Howard is used with he Orlando Magic. By signing top rated big men in back-to-back years probably means that the coaching staff probably foresees this year's imposing prospect Fab Melo as a one-and-done player. If not, the Orange may have the modern day version of the Houston Rockets' "Twin Towers" of Ralph Sampson and Hakeem Olajuwon.
Check out Rakeem Christmas in action this Summer:
Allen Moll has been a lifelong NBA and NCAA College Basketball fan who watches and studies games religiously, and coaches youth basketball in his native Lehigh Valley region of Pennsylvania.  Allen also provides content to Bleacherreport.com, Upperdeckblog.com, in addition to being a tenured NBA and NCAA columnist for TheHoopDoctors.com.