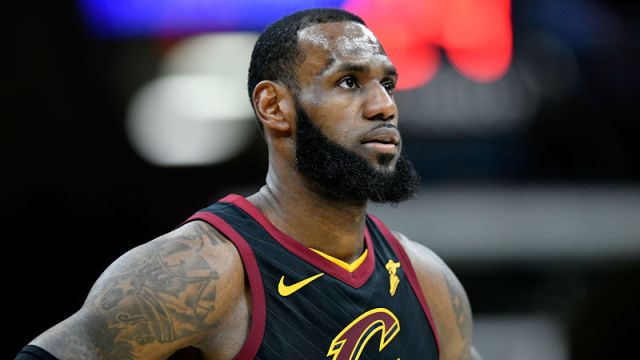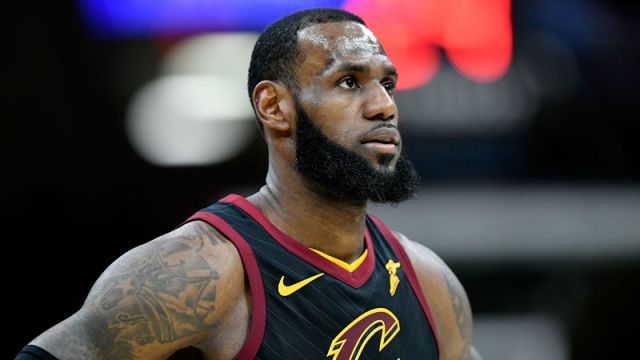 LeBron James continues to elevate his legacy at the pinnacle of his sport, even though it is looking more likely than not that he may fall to the juggernaut Warriors once again in the 2018 NBA Finals.
After one of the greatest NBA Finals and NBA Playoffs performances in league history in Game 1 as LeBron had 51 points, eight rebounds and eight assists in a losing effort, he followed that up with 29 points, 13 assists and nine rebounds in Game 2 and passed Kareem Abdul-Jabbar for the 2nd most points in NBA Finals history on Sunday night.
Congrats to @KingJames of the @cavs for moving up to 2nd on the #NBAFinals SCORING list! #ThisIsWhyWePlay #WhateverItTakes pic.twitter.com/PmPcuz7krM

— NBA (@NBA) June 4, 2018
With his current scoring averages and pace in NBA Finals games in his career, it would take about 13 more finals games for him to be able to pass Jerry West's incredible 1,679 points in the NBA Finals in his hall of fame career.
That would likely mean making two more NBA Finals appearances after the 2018 season, which would be an incredible 11 appearances and 2nd only to Bill Russell who played in 12 NBA Finals in his historic career.
For a frame of reference for players like Jerry West and Bill Russell, there were only 8 teams in the NBA at the time, as compared to the 30 teams in the NBA today, making that many appearances in the finals that much more impressive and unlikely.
It looks like he may need to score a few hundred more points in the 2018 NBA Finals if the Cavaliers want to have a chance to dethrone the defending NBA champions.