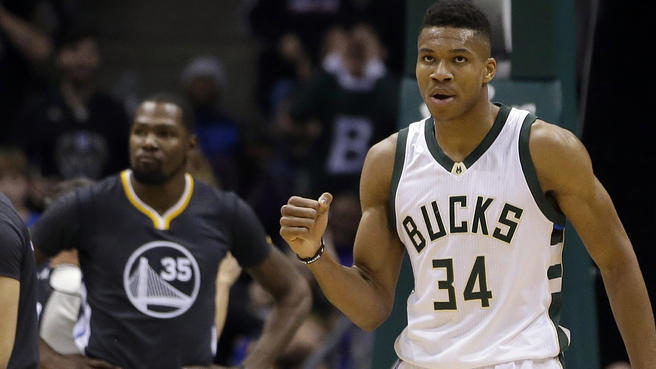 Kevin Durant and Giannis Antetokounmpo possess a lot of similarities as players and they may be the most freakishly gifted 6'11" or 7'0″ players the NBA has ever seen with their unique agility and ability to handle the ball and play like a guard at their size.
Like every generational star in this era of NBA basketball, once they are done cutting their NBA teeth and enter their mid-20s they come to a point of their career where they can choose to stay with the team that drafted them and continue to try and create an NBA champion or choose to play elsewhere.
This decision becomes particularly interesting when the star player plays in a smaller NBA market that isn't exactly known for winning or set up to go into the luxury tax to construct a championship roster.
When faced with this decision in 2016, Kevin Durant chose to leave the Oklahoma City Thunder to join the Golden State Warriors. What will Giannis do in a few years?
Kevin Durant advises him to play for himself and make the best decision for him.
Here is what he told ESPN:
"I was at that point," Durant told ESPN. "I wanted the same things. …"

…

"What I would say to him, I would tell him to play for himself," Durant said. "Because he's the one out there putting in the work, he's the one out there getting up in the morning staying committed to the game. Obviously [the comments about staying put] sounds good to the fans in Milwaukee and to the ownership, because he cares so much about wanting to please them and play well for them, and I get it.

"But his career is about him; it's about whatever he wants to do and however he feels is right for him. And what type of basketball does he want to play? He's not going to stay in Milwaukee if he's not having fun playing the game."
Giannis has never given any indication that he doesn't love playing and living in Milwaukee, constantly assuring that he loves playing in a smaller NBA market and admires players like Duncan, Dirk and Kobe for spending their careers in one place.
It will be years before Antetokounmpo even tests the free agent market, but the Bucks should hope that he doesn't employ the exact same mindset as Durant since that could lead to a very sad day in Milwaukee.