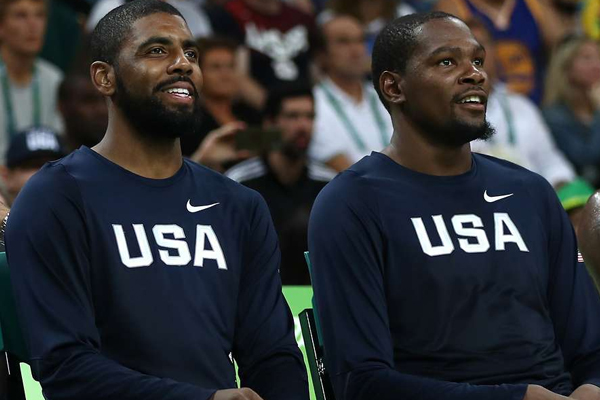 According to Bleacher Report, Kevin Durant and Kyrie Irving had decided to team up before the start of 2018-19 season. The selected team, the Brooklyn Nets, had not been selected at the time. Although they are best friends, and although Kyrie was likely heading to Brooklyn, given Durant's injury I don't think many thought he'd leave Golden State.
Durant and Irving were going to play together, somewhere, in 2019. That's what they resolved over a series of conversations before this season even began, according to knowledgeable sources.

Initially, Irving and Durant discussed joining forces with the Knicks.

Simply put, the Nets had the superior roster, the more proven front office, the better infrastructure to support two superstars. Irving and Durant both recognized it by midseason, according to knowledgeable sources.
Beck of Bleacher report notes that the two did initially consider the New York Knicks, but the team's disastrous season, coupled with the Brooklyn Nets' success, led to the two stars dismissing the Knicks quickly.
As for Durant, he will likely miss the entire season due to an Achilles injury suffered in Golden State's NBA Finals loss to the Raptors so we will have to wait to see how an Irving / Durant teaming plays out.