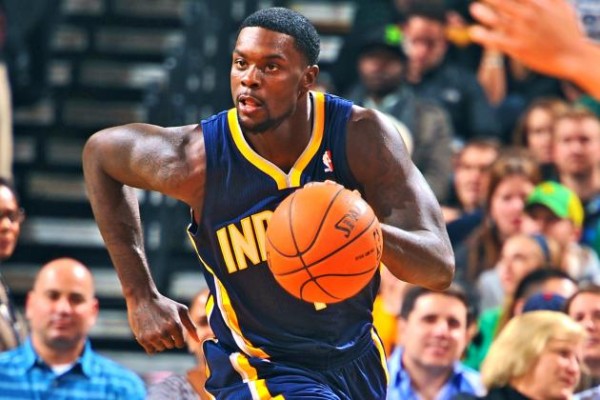 Lance Stephenson's second go-round with the Indiana Pacers is officially underway, and it naturally began with borderline mayhem.
With the Pacers up 15 over the Toronto Raptors at the end of Tuesday's game, Stephenson received a pass from Paul George, dribbled about half the length of the court, and then went in for a layup. Knowing he could have, and should have, just dribbled out the clock, the Raptors were not happy:
BAHAHAHA Lance shoots breakaway layup up 15 w/seconds left, infuriates Raptors, walks right by?

WELCOME TO THE LANCE STEPHENSON EXPERIENCE pic.twitter.com/ecdMq1EOvn

— Rob Perez (@World_Wide_Wob) April 5, 2017
Stephenson just strolled past the Raptors, clearly realizing he broke one of the NBA's cardinal unspoken, and pretty stupid, rules. Toronto's players still weren't happy in their postgame interviews:
Raptors' P.J. Tucker went off on Lance's late layup: "Tasteless. Classless. There's nowhere in the league for that."

— Scott Agness (@ScottAgness) April 5, 2017
More Tucker: "Nobody care about his reputation. I could care less. I don't even know who he is. He's happy he just got back in the league."

— Scott Agness (@ScottAgness) April 5, 2017
Stephenson, for his part, was apologetic:
'The crowd was chanting me on, and I just wanted to do it for the fans. I just want to say sorry (to the Raptors).' pic.twitter.com/W28NL7fA0s

— IndyStar Sports (@IndyStarSports) April 5, 2017
And George took blame for throwing him the ball in the first place:
Paul George (with a smile): "I'll take fault in passing it to him because I knew he was going to lay it up.

— Scott Agness (@ScottAgness) April 5, 2017
Whatever side of the fence you fall on, Team Lance or Team Tacit Basketball Discourse, we can all agree this is the only way Stephenson's reunion in Indiana could have unfurled: with a victory, a few questionable decisions, and a borderline brawl.