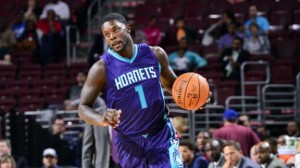 Lance Stephenson may have overstayed his welcome in Charlotte.
Yes, it is only his first season with the Hornets. And yes, said season isn't even 25 percent done. But the Hornets look like the Bobcats, and it's forced them to scour the trade market for reinforcements, according to Grantland's Zach Lowe:
The Hornets have been aggressive making trade calls, according to sources across the league.

The Hornets are searching for upgrades on the wing and at power forward, per those sources, and they are willing to talk turkey on basically anyone other than Kemba Walker and Al Jefferson. Free agents signed this past offseason can't be traded until December 15, and few would be surprised if the Hornets make and take calls on Lance Stephenson ahead of that trigger date. …

… Now the Hornets are in trouble, and they'll scour the trade market while hoping the status quo roster can find just enough punch to trample over a few of the teams that will surely stumble down the Eastern Conference ladder. You could see them making calls on a number of potentially available wings: Randy Foye or Wilson Chandler in the Denver overflow pile; Jeff Green in Boston, capable of swinging between both forward positions; Corey Brewer, suddenly weirdly essential for a banged-up Minnesota team; and in a much lower trade-value range, shooting tweeners like Dorell Wright and old friend Anthony Tolliver.
Something clearly needs to be done in Charlotte, where the Hornets are 4-14 and fading fast. Their defense is among the league's 10 worst one season after finishing in the top six, their offense is broken, their shooting is nonexistent and they're threatening to fall out of the Eastern Conference's unimpressive playoff picture less than 25 games into the season.
This is not how the Hornets were supposed to usher in a new era. Rebranding and free-agent efforts created a rejuvenated buzz. The Hornets made the playoffs as the Bobcats last season. They signed Stephenson, locked up Kemba walker, still had Al Jefferson and drafted Noah Vonleh. This was a team with depth and firepower set to build on its sound 2013-14 crusade.
That they're laying a dud after going to such great lengths to shore up the roster and contend in the Eastern Conference is unnerving. They're not flush with trade assets, both Bismack Biyombo and Michael Kidd-Gilchrist will be eligible for new contracts after this season and Jefferson has the option of exploring free agency himself. There isn't a whole lot for this team to hang its hat on. That, in part, is why they're future remained fickle to begin with—because it was so fluid.
There wasn't one plan, one path. Like Jefferson, Stephenson signed a short-term deal that allows him to reach free agency after two years if he pleases. The Hornets, in turn, are stuck in this incessant flux, constancy planning at a level that isn't conducive to continuity or postseason success.
Trading Stephenson once he's eligible to be dealt might not solve any of this. It's impossible to gauge his value on the market while he's playing so poorly. But the Hornets need to do something. Anything. The buzz surrounding this team is already a faint whisper; they cannot afford for it to vanish altogether.
Dan Favale is a firm believer in the three-pointer as well as the notion that defense doesn't always win championships. His musings can be found at Bleacherreport.com in addition to TheHoopDoctors.com.