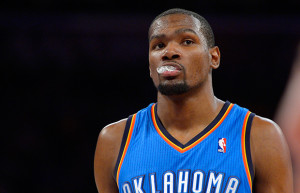 Oklahoma City Thunder forward Kevin Durant could possibly make his much-awaited season debut tonight as his team visits the New Orleans Pelicans, according to Darnell Mayberry of the Oklahoman.
Durant was forced to miss the start of the season due to a right foot fracture and had to undergo surgery to repair the injury. And last week, the reigning MVP finally returned to practice which is a clear indication of his nearing return.
ICYMI: Kevin Durant could make his season debut tonight at New Orleans – http://t.co/5PsNDJd33D

— Darnell Mayberry (@DarnellMayberry) December 2, 2014
In last Saturday night's 105-78 win versus the Knicks, Thunder point guard Russell Westbrook returned from his own injury after missing almost a month. He immediately did his best to make up for lost time as he ended up with 32 points, 7 rebounds and eight assists in under 24 minutes of play.
Clearly, Westbrook and Durant's presence have been tremendously missed as the Thunder have are dwelling near the bottom of the Western Conference. But that said they are also lucky enough to only be 4.5 games away from the final playoff spot in the highly competitive western conference.
Things will indeed become more competitive, once the reigning MVP makes his debut tonight, possibly.
Benjamin Felix Santos is currently a senior college student from Manila, PH. An aspiring NBA writer who bleeds the purple and gold. His love and passion for the game will never die.
Follow @biefsantos