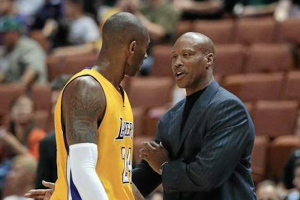 Come join Lakers head coach Byron Scott on this limb, won't you? It's fantastically flimsy and precariously situated between a raging inferno and toxic-smog factory, all of which are perched above perilous waters rife human-guzzling crocodiles.
What's that? Oh, you won't be joining him? Only Kobe Bryant will?
Okay, then.
Scott has touched on some pretty daring topics since assuming control of the Lakers. Chief among them has been defense. He began his sideline-stalking stint preaching defense while pretty much declaring the Lakers would be a defensive-minded team. And once he found out that wasn't true, he's been publicly and, more importantly, genuinely shocked.
Turns out he'll also be shocked if the Lakers don't win an NBA championship under his watch. Kobe, too.
Here's the confusion rub, courtesy of ESPN.com's Baxter Holmes:
Before a recent game, Byron Scott said he told his players "doubt kills dreams." The Los Angeles Lakers coach was just getting warmed up.

"I told them that I have no doubt that we will win a championship in my tenure here as head coach," Scott told ESPN.com this week, "because I know this organization. But I do know it's going to take some patience. It's a process."

Wait. A championship?

"I agree," Lakers star Kobe Bryant told ESPN.com when asked about Scott's remark.

Why?

"Faith," Bryant continued. "The Lakers' track record. This organization is really good about turning around, period. We don't have many dry years."
I mean….
Like…
It's just that…
Yeah, I'm stumped. There are leaps of faith, then there's complete and utter craziness and then there's stuff like this, which falls somewhere between "Dubya Tee Eff?" and "Goddamn Impossible."
Winning another title under Scott isn't totally impossible, to be sure. I won't even lace that statement with a "So long as he coaches another 17 years" caveat. The Lakers could, in theory, win another title before Bryant even retires. It could happen. All they need to do is strike free-agency gold this summer and the one after that. If they land, say, three of Kevin Love (LOL), Goran Dragic, Rajon Rondo, Kevin Durant, Paul Millsap and Marc Gasol while convincing Bryant to not retire and take an actual pay cut leading into 2016-17, they could totally win another banner.
Whether or not the slightly possible becomes reality is a different animal altogether.
So much needs to go right for the Lakers it isn't even funny. Free agents need to be seduced by their market and mystique; they need to want to play beside Kobe; and Kobe needs to want to play beyond his current deal. Don't even get me started on the financial logistics. The Lakers need to keep their books squeaky clean over the next few summers as well, perhaps enduring a year similar to this one next season, where their roster is overrun with expiring contracts and placeholders, and Bryant, Nick Young and "Star 2015 Free Agent Y" are the only constants. Because while the salary cap is expected to erupt in 2016, one long-term contract can change everything. If the Lakers feel added pressure to do something next season, they could hand out a relatively bad deal to a mediocre player or two or three.
If the Lakers can keep their finances flexible, Kobe healthy and their situation relevant, they have a puncher's chance at assembling a contender borne out of free agency and, on a smaller scale, trades. But the going will be tough, bordering on incredibly unlikely. And if the odds don't swing in their favor soon, Scott's declaration of confidence may only apply to players not yet acquired and, more pointedly, those not named Kobe Bryant.
Dan Favale is a firm believer in the three-pointer as well as the notion that defense doesn't always win championships. His musings can be found at Bleacherreport.com in addition to TheHoopDoctors.com.