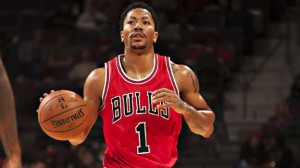 It's not what the Chicago Bulls -or their fan base- wanted to hear after Thursday nights 100-93 victory over the Toronto Raptors, but it seems to be the harsh reality facing this team. Star point guard Derrick Rose is injured again. He suffered a left hamstring injury with less than two minutes remaining in the fourth quarter.
Rose says the injury isn't serious and that he'll be re-evaluated on Friday. He'll have 24 hours to heal before the Bulls welcome the Indiana Pacers to the United Center on Saturday. But if his recent injury history is any indication, he could sit out yet again.
Rose insists that he hasn't ruled out taking part in Friday's practice or playing in Saturday's upcoming game, but we've all seen this song and dance before. If he plays against Indy he'll surely be under the thinnest of microscopes. If he doesn't then it would look bad for the Bulls' $90-million man considering his recent comments regarding his health.
Until then all we can do is hold our breath, hope for the best, and prepare for the worst. If Rose starts on Saturday don't be surprised if head coach Tom Thibodeau limits his minutes. If he doesn't play then Kirk Hinrich will most likely start in his place.
If the latter ends up being the case then expect to see more minutes for Aaron Brooks. The good thing is the Bulls have the depth and talent this year to offset Rose's absences from the lineup. But for now all we can do is wait. Follow me on Twitter @GabeSalgado82