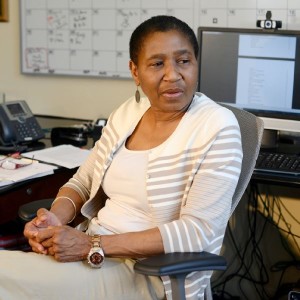 NBA owners 'round the Association: Duck!
Michele Roberts, the NBA Players Association's Director, has her guns out…and she's firing away.
Since making history in July by becoming the first female union chief in major North American sports history, Roberts has been making waves. She's been speaking out in favor of players and against a salary cap. This is to say, she's been honest and, therefore, loads of fun.
Speaking to ESPN The Magazine's Pablo S. Torre, she inevitably dropped buckets of additional honesty and fun. Here's what she had to say about the NBA's players and its owners:
"Why don't we have the owners play half the games?" Roberts said, speaking in her Harlem office to ESPN The Magazine. "There would be no money if not for the players."

"Let's call it what it is. There. Would. Be. No. Money," she added, pausing for emphasis. "Thirty more owners can come in, and nothing will change. These guys [the players] go? The game will change. So let's stop pretending."
Wow.
Before we go any further, commissioner Adam Silver had an equally well-phrased retort:
"We couldn't disagree more with these statements," Silver said. "The NBA's success is based on the collective efforts and investments of all of the team owners, the thousands of employees at our teams and arenas, and our extraordinarily talented players. No single group could accomplish this on its own. Nor is there anything unusual or "un-American" in a unionized industry to have a collective system for paying employees — in fact, that's the norm.

"The salary cap system, which splits revenues between team owners and players and has been agreed upon by the NBA and the players association since 1982, has served as a foundation for the growth of the league and has enabled NBA players to become the highest paid professional athletes in the world. We will address all of these topics and others with the players association at the appropriate time."
No surprises here. Silver and Roberts represent two different sides of the fence. The former essentially works for the owners, while it's the latter's job to fight for the players.
If we're being honest—Robert's style—it's the NBAPA director who seems to have a more valuable point.
Maybe the NBA was more of a collective effort back in the 1980s or earlier. Hell, back then, it was probably all the owners. But now, it's all about the players. They hold all the power. Owners and their staff definitely do a lot of the legwork, but they profit off the players' marketability and relevancy.
Case in point: If LeBron James, Kevin Durant and anyone in the NBA who's ever made an All-Star appearance decided to up and leave, the league wouldn't be as popular. Scrubs and young risers like Damian Lillard might keep them afloat, but the Association would plunge into the depths of obscurity and bleed dollar signs.
Donald Sterling's departure from the owner ranks only backs up this theory. More of a stink would have been made if it was Blake Griffin or Chris Paul or even Doc Rivers leaving. Sterling, though? Fuck him. Replace him with another billionaire who isn't hopelessly and repulsively racist.
Yes, in many ways, the NBA is a collective entity. Owners cut players checks.
It's just important to remember that without those players, there would be no checks for owners to cut.
Dan Favale is a firm believer in the three-pointer as well as the notion that defense doesn't always win championships. His musings can be found at Bleacherreport.com in addition to TheHoopDoctors.com.