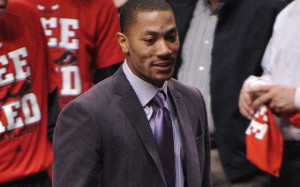 Derrick Rose made headlines a few days ago when he stated that he has no problem missing games because he's focused on his long-term health. That doesn't necessarily mean that he randomly sits out games when healthy, but it did sound like a confirmation that he's never eager to return to the court either.
Either way, it was a very strange comment from one of the league's brightest starts. Naturally, it rubbed people the wrong way and Rose doesn't care.
"As long as I'm being myself, that's the only person I can be," Rose said Thursday morning before the Chicago Bulls' morning shootaround at Air Canada Centre. "As far as saying anything, probably blame me for thinking about the future I'll probably think different but that's all I was doing."

Asked if he understood why some people would get upset at such comments, Rose said no — twice. […] "No, no, but I could care less," he said.
H/T: Chicago Tribune