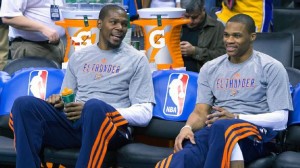 There is no denying it, the Oklahoma City Thunder are in deep trouble.
With the injury to Westbrook Thursday night against the Clippers, the Thunder will now be without their top two superstars for the next 20 games more than likely.
Immediate Impact:
Losing your top two players is extremely difficult for any franchise to handle, but when you consider that Durant and Westbrook are potentially two of the five best players in the entire league and the most heavily depended upon duo of any in the NBA (they accounted for 55% of the Thunder's scoring in last year's postseason) the current situation for the Thunder is especially dire.
Reggie Jackson, the Thunder's only other player who has consistently shown the ability to create his own offense is also currently out with an ankle injury, along with injuries to Jeremy Lamb and Anthony Morrow.
The scheduling God's are looking down upon the Thunder as their next 18 games include Brooklyn x2, Milwaukee x2, Detroit x2, Utah x2, Philly, Boston and Sacramento.
Regardless, take a gander at the Thunder's prospective starting line-up at the moment:
PG Sebastian Telfair
SG Anthony Roberson
SF Perry Jones III
PF Serge Ibaka
C Steven Adams
That is a scrappy team that has great length and can defend, but even with the imminent return of Jackson, Morrow and Lamb, can you see that team averaging 90 points a night or doing better than 7-13 in their next 20 games? I can't.
Long-Term Impact:
For most, it is impossible to view the Thunder's current hardships as anything but a complete negative short-term and long-term for the Thunder this season; there is some potential for some positives to come out of it as well. First I will cover the negatives.
Let's do some math: say the 0-2 Thunder are without Durant and Westbrook for the next 20 games and go 7-13 during that stretch (I am being kind, I think they may do worse than that), that would leave the Thunder at 7-15 to start the season. Now if you consider that 49 wins was required to make the playoffs in the Western Conference last season, that would mean the Thunder would have to go 42-18 in their final 60 games to get to 49 wins.
That is definitely within reach with a healthy Durant and Westbrook, but considering how brutal the Western Conference is and the fact that it may take some time for each to get back in a groove, especially Durant who will be coming off of a foot injury and will take some time to get his conditioning back, 42-18 would be no easy task.
That would mean they would be red-hot, already in survival mode, and would have the added benefit of guys like Perry Jones III, Steven Adams, Sebastian Telfair, and Jeremy Lamb with plenty of experience and confidence as valuable assets for the team in addition to the Thunder's four main players: Durant, Westbrook, Ibaka and Jackson.
That is the one silver lining you can gleam from the Thunder's early season injury woes, it should enable them to be a much deeper and more well-rounded team by the end of the season and moving forward. This is something that may never have happened if the Thunder were depending heavily on Durant and Westbrook to provide all of their offense on a nightly basis like usual.
The number one question about the Thunder moving forward in 2014-15 is now whether they will be able to make the postseason despite their injuries and a slow start to the season.
Every other team in the Western Conference is praying they don't, because if the Thunder are able to salvage their season and get a 6-8 seed in the West in the playoffs, they will be the most nightmarish lower seed in recent NBA history, if not all-time.