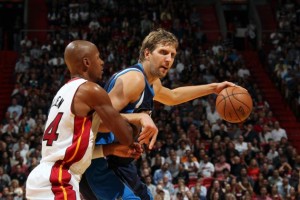 If at some point a 39-year-old Ray Allen decides he wants to play, Mark Cuban's Dallas Mavericks will take notice.
Although it's been widely assumed that Allen would follow LeBron James to the Cleveland Cavaliers, his continued absence from the basketball court is ominous—at least on that front. Perhaps he understands that the Miami Heat didn't win it all in their first try, so he's looking for a team that, in theory, is closer to title contention because of sheer longevity and familiarity with one another.
Enter the San Antonio Spurs.
Er, I mean, Mavericks.
From The Dallas Morning News' Eddie Sefko:
With the Barea roster move, the Mavericks are set for the season, right?
Not so fast.

There remain two veteran shooters on the open market, and the Mavericks have a history of bringing in wily veterans during the course of the season. Peja Stojakovic was the prime example in 2011.

This year, Ray Allen and Rashard Lewis remain free agents. Allen is biding his time while waiting to see what team he might fit with, and retirement remains a possibility for the 39-year-old. Lewis is working out, sometimes in Dallas, to recover from a knee problem.

"We haven't talked to him, but I think he's doing it the right way," owner Mark Cuban said of Allen. "He's waiting to see who's doing well. If it comes down to it, we'd always consider it. We're always open to improving the team. But you don't want to mess up a good thing, either. That's when Caron got hurt and Roddy got hurt. But Peja is a good example," he said referring to Caron Butler and Roddy Beaubois injuries creating a need for Stojakovic in 2010-11.
Interesting.
I think.
In so many ways, the Mavericks are just as new to each other as the Cavaliers, though the roster turnover and overhaul hasn't been as significant. Arrivals like Tyson Chandler and J.J. Barea are on their second go-round with the team, so that makes things different as well.
Watching Allen on this squad, if it came to it, would be spectacular. The Mavericks are already built to shoot and score and obliterate. Adding Allen only deepens that dynamic, basically ensuring they—assuming health—finish with a top-three offense.
But you have to wonder if the Mavericks would even be in Allen's peripheral if he decides to return. The Western Conference is brutal. The Spurs—especially after all those injuries to the Oklahoma City Thunder's core—are really the only "safe" bet. If Allen's looking for the best chance to reach the NBA Finals and win his third championship, that may lie out east. And while that opportunity could dictate he play for the Cavaliers, the incredibly deep Chicago Bulls would also have to be an option. Surely they could make room.
And, in all likelihood, that's why Allen's waiting. If he doesn't retire, expect him to join a dominant team. Delaying his decision gives him an opportunity to monitor the NBA's power structure, allowing him to make an informed, championship-chasing decision when the time is right.
Dan Favale is a firm believer in the three-pointer as well as the notion that defense doesn't always win championships. His musings can be found at Bleacherreport.com in addition to TheHoopDoctors.com.