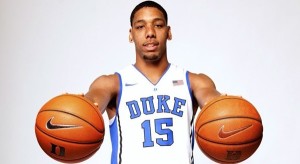 With the 2015 NBA Draft now a little more than 8 months away, and the NCAA and NBA seasons ready to begin, it's time to take our initial conclusive look at the top 1st Round prospects for the upcoming NBA Draft.
Back in early August, we gave you 15 Early Prospects for the 2015 NBA Draft, but now that everyone is back on campus and the NBA preseason is almost concluded, let's take a more in depth look at the top prospects.
Star NCAA freshmen like Jahlil Okafor at Duke and Karl Towns of Kentucky remain firmly in the Top 10, while returning studs like Kansas' Wayne Selden and Wisconsin's Sam Dekker, also round out the Lottery.
But the true wild cards of the Draft reside in the International prospects like Kristaps Porzingis, Mario Hezonja, and most noticeably former US high school standout Emmanuel Mudiay, now playing in China, who remains in the mix for the top overall selection.
Be sure to check out our extensive 2015 NBA Mock Draft Database, featuring a collection of the top Mocks on the internet.
As such, these Mock Draft rankings are based on potential with this year's Draft order based on last season's team records and outstanding trades, without taking into consideration for team needs as of yet. These are only my choices and not the consensus picks of all of The Hoop Doctors writers, with that said here is my 2015 Mock Draft:Version 2.0
Draft Order
College Team
Player
Position
Physical

1.

Mil


Duke
 Jahlil Okafor

 C
6'11   265lbs   Freshman

Prior to playing an official regular season minute with the Blue Devils, the reigning #1 ranked HS player also projects as the top pick in next June's Draft.  He has legit NBA size, a stellar back to the basket offensive game, and runs the floor very well, despite not having elite level athleticism.  Some have touted him as the next Tim Duncan but he may be more of an Al Jefferson type, prolific scoring big man.

2.

Phi


China
 Emmanuel Mudiay

 SG
6'5   190lbs   Intl
The lightning quick HS point guard surprised everyone by playing this season professionally in China rather than attend SMU.  The move has not hurt his stock as of yet as a few sites have Mudiay as the prospect with the highest ceiling in the Draft, in the mold of Wizards All Star PG John Wall.

3.

 Orl

Kentucky
 Karl Towns

PF/C
7'0   250lbs   Freshman
Towns will be in high demand come draft night, and still could be in the mix for the top overall selection as a sweet shooting big man that can score from the perimeter as well as bang inside.  As an 18 year old, Towns has a ways to go, but he projects as a franchise defining player like LaMarcus Aldridge.

4.

 Utah

Kansas
 Kelly Oubre

SG/SF
6'7   220lbs   Freshman
Easily one of the most prolific and talented offensive players entering the college ranks this season, Oubre has big shoes to fill replacing #1 overall pick Andrew Wiggins in Kansas.  With perimeter scoring a position of need for many NBA teams, with a good season, Oubre should be a lock as a Top 10 selection come June.

5.

 Bos

Kansas
 Wayne Selden
 SG
6'5   230lbs   Sophomore
Selden had a very good freshman campaign but was swallowed up by the hype of Wiggins and Embiid last season at Kansas.  The athletic 2 guard is built like a tank, is a 5 tool player, and is one of the top returning players in college basketball this season.

6.

 LAL


Kansas
 Cliff Alexander
 PF
6'9   255lbs   Freshman
Although he's a tad undersized to play center, Alexander used his elite athleticism and monstrous wingspan to dominate the HS ranks.  He takes over for 2014 draftee Joel Embiid manning the middle for the Jayhawks this season, meaning he wil get lots of TV exposure to show he could develop into a quality PF at the next level.

7.

 Sac

Arizona
 Stanley Johnson
 SG/PF
6'7   245lbs   Freshman
One of the top freshmen in the country, Johnson could be the X factor in Arizona contending for a National Title this season.  He has legit NBA size, can score and defend multiple positions, and remind many pro scouts as the 2nd coming of Ron Artest, minus the insanity.

8.

 Det

Louisville

 Montrezl Harrell

PF
6'8   240lbs   Junior
Harrell returns to the Cardinals for his junior campaign, as one of the most talented and energetic big men in the college ranks.  He reminds many of Nuggets forward Kenneth Faried for his non-stop motor and elite rebounding abilities.

9.

 Cle

Michigan
 Caris LeVert
SG
6'7   200lbs   Junior
The next in line of elite level Wolverine Draft prospects, LeVert has prototypical size and shooting stroke to excel at the next level.  He's a tad thin but was one of the nation's top perimeter threats last season.  He's a Big Ten POY candidate and should be a Top 10 lock next June.

10.

 NO

Croatia
Mario Hezonja
 SG/SF
6'8   215lbs   Intl
This year's top International prospect at this point, Hezonja isn't your average European player as he has elite level athleticism and above average size for the SG position.  He has shown a penchant overseas to make the highlight reel play and could be a real gem come next June if he has a consistent season on the highest level in Europe.

11.

 NY

Arizona
 Rondae Hollis-Jefferson

 SG/SF
6'7   225lbs   Sophomore
One of the most athletic players in the country, the sophomore swingman reminds many of former Arizona standout Andre Iguodala, as a do-it-all forward that defends and plays 4 positions on the floor, and should be one of the leaders of the preseason Top 5 ranked Wildcats this season.

12.

 Den

Kentucky
Willie Cauley-Stein

C
7'0   240lbs   Junior
For the 3rd year in a row, the shot blocking big man has the attention of NBA scouts as an athletic rim protector with a developing offensive game.  He reminds many of former NBA Defensive POY Tyson Chandler and will get tons of exposure as UK begins the season as the top ranked team in the polls.

13.

 Min

Wisconsin
 Sam Dekker
 SF
6'9   230lbs   Junior
A 1st Team Preseason All American, the junior swingman is a solid offensive contributor and one of the leaders of the experienced Badgers Final Four squad returning from last season.  He reminds many of Utah's Gordon Hayward as a multi-skilled forward with guard-like skills.

14.

 Pho

Florida
Chris Walker

 PF
6'9   215lbs   Sophomore
One of the nation's top HS players coming into last season, Walker missed most of the season due to eligibility issues and playing limited minutes on a veteran squad.  Although he is suspended for the Gators' first few games, Walker projects as a freakishly athletic big man that can score from the midrange, similar to a young Chris Bosh.

15.

 Atl

Latvia

Kristaps Porzingis

 PF/C
7'0    215lbs   Intl
Following pulling out of last year's Draft last minute, the talented 7 footer from Latvia returned to Europe to home his skills and could be a hot commodity on draft night as a big man that combines amazing length and a sweet shooting stroke from the perimeter, that is if he adds some much needed weight and strength to his slim frame.

16.

 Cha

Texas
Myles Turner

 PF/C
6'11   245lbs   Freshman
The near 7 foot star freshman at Texas is tailor made for the NBA game as a multi-talented big man with excellent midrange skills on his jumpshot.  He's similar to Kentucky's Karl Towns but must prove he can remain healthy in the college ranks, something he struggled with in high school.

17.

 BK

UNC
Brice Johnson

 PF
6'9   225lbs   Junior
Possessing through the roof athleticism and extreme length for the PF position, Johnson is expected to have a breakout junior season as one of Roy Williams' go-to scorers this season.  He has reportedly added some much needed bulk to his rather thin frame that will only help his stock on the next level.

18.

 Was

Kentucky

 Andrew Harrison
PG
6'6   210lbs   Sophomore
A big, physical combo guard, Andrew will be at the helm of the #1 team in the nation, getting plenty of exposure on TV throughout the season.  After a slow start, he came on strong to help lead the Wildcats to the National Championship Game and should be pushed hard by stud freshman PG Tyler Ulis in practice.  With a good showing, look for Andrew to skyrocket into the Lottery.

19.

 Chi

Alabama
Bobby Portis

 PF
6'10   235lbs   Sophomore
After an impressive freshman campaign, the monstrous PF outplayed his peers at this year's Lebron James Skills Academy and has played his way onto the NBA's radar.  Better conditioning and an improvement in lateral quickness would definitely help his stock but he has the potential to be a stud at the next level if everything comes together.

20.

 Tor

LSU
Jordan Mickey

PF
6'8   235lbs   Sophomore
The star forward could have been drafted after a stellar freshman season last year but returns along with teammate Jarell Martin on a talented LSU squad.  Mickey is an athletic freak that reminds many of longtime NBA veteran Shawn Marion.

21.

 Dal

UCLA

Kevon Looney
 SF
6'9   220lbs   Freshman
A long versatile athlete that dominated the HS ranks, Looney is an outstanding defender and elite rebounder that reminds many of blue collar NBA player Thad Young, now in Minnesota.

22.

 Mem

Utah
Delon Wright

PG
6'5   180lbs   Senior
As the brother of current NBA player Dorell Wright, NBA genes are definitely in the cards for Delon.  He's one of the nation's top seniors and under the radar floor generals that could lead the Utah Utes back to the NCAA Tournament this season.

23.

 GS

Kentucky
Alex Poythress
SF/PF
6'8   240lbs   Junior
Once a top 5 HS player, success has come slower than expected for the former McDonald's All American.  But after entering his 3rd season as an NBA prospect at Kentucky, this could finally be the year that Poythress realizes his potential as an uber athletic defender with a developing offensive game, one that reminds some of NBA Finals MVP Kawhi Leonard.

24.

 Por

West Virginia

Juwan Staten
PG
6'0   190lbs   Senior
A tad undersized at the PG position, Staten will be one of the nation's top seniors, and is a returning All Big 12 selection last season.  In addition to being a proficient midrange shooter, he's lightning quick with the ball, making him a tough matchup on defense.

25.

 Hou

UNC
 Justin Jackson
 SF
6'9   205lbs   Freshman
One of the nation's premier incoming freshmen, Jackson definitely has the skills to be an NBA player, but must add some much needed strength to his rail thin frame.  He dominated the HS ranks, earning multiple All American honors, including sharing MVP honors with Jahlil Okafor in the 2014 McDonald's Game.

26.

 Mia

Purdue

AJ Hammons

 C
7'0   280lbs   Junior
Possessing monstrous size and strength conducive for the next level, he has an excellent back to the basket low post game and an above average stroke from the FT line.  Hammons should be a double-double machine and a potential All Big Ten performer.

27.

 Ind

Arizona

Kaleb Tarczewski

 C
7'0   245lbs   Junior

Another potential starter at the next level, Tarczewski is a legit 7 footer with amazing athleticism.  He hasn't quite made the instant impact we thought he would as a freshman but now as a junior should be one of the most dominant big in the college ranks this season.

28.

 LAC

Kentucky

Aaron Harrison

SG
6'6   210lbs   Sophomore
Another talented UK product on the NBA radar, Harrison should be in high demand on the next level as a knock down 3 point shooter with above average handles.  He made his bones in last year's NCAA Tournament sinking numerous clutch, late game shots to help the Wildcats advance to the 2014 NCAA Championship Game.

29.

 OKC

GA State
RJ Hunter

 SG
6'5   180lbs   Junior
With the SG position in demend at the next level, talented junior scorer RJ Hunter could become a 1st Round lock with another stellar season.  Many consider him the nation's top perimeter threat after shooting lights out at the Lebron Skills Camp and has added the ability to create his own shot as he enters his junior campaign.

30.

 SA

OK State
 LeBryan Nash

SF
6'7   230lbs   Senior
While former star teammates Marcus Smart and Marcus Smart are now currently already in the NBA, talented forward LeBryan Nash returns for his senior season.  He's a talented scorer, and able defender, in addition to having legit size for the NBA.
Allen Moll has been a lifelong NBA and NCAA College Basketball fan who watches and studies games religiously, and coaches youth basketball in his native Lehigh Valley region of Pennsylvania. Allen has also provided content to Bleacherreport.com, Upperdeckblog.com, Cleveland.com, CSN Philly.com, Buckets Magazine, in addition to being a tenured NBA and NCAA columnist for TheHoopDoctors.com.