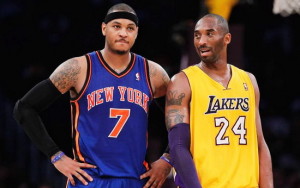 A lot of criticism has been bombarding Los Angeles Lakers superstar Kobe Bryant regarding his inability to play together with other players, and that it has been a factor leading to the downfall of the franchise.
According to ESPN.com's Ramona Shelbuirne and Ohm Youngmisuk,—Carmelo Anthony — who had the chance to play alongside the Mamba, decided to remain with the New York Knicks and accept that 5-year $124 million contract, stated that his decision had nothing to do with Kobe at all. In fact, he has no problems playing with him:
Hell no. Of course not," Anthony said. "If I thought that [playing for the Lakers] was the right situation for me from an overall perspective as far as having a team there, then I would have looked at that situation more in-depth. I just felt more comfortable staying here in New York. But as far as playing with him … I'm here now but I would always love to play with Kobe."
That being said, the Lakers' recent downfall is not solely Bryant's fault as a lot of factors have contributed, such as the aging of fellow star teammates Nash and Gasol, the Dwight Howard fiasco, the lack of bench depth, and the poor decision to hire the 7 seconds or less D'Antoni over an available Phil Jackson a couple short years ago. Bryant has given the purple and gold more than enough rings to flaunt. His contributions clearly outweigh his shortcomings throughout his years with the team.
Other players should actually be excited to play alongside one of the greatest ever to play the game. For sure, he's not the easiest person to get along with, as we all know his standards are quite high in almost every aspect of basketball. But that's exactly what made him become who he is today—and what better way to learn further and understand the game from his perspective while seeing his work ethic first hand.
To play with Kobe is difficult but as a young gunner in the leaugue, I would think it would be worth it.
Benjamin Felix Santos is currently a senior college student from the Philippines. An aspiring NBA writer, who bleeds the purple and gold, and his love for the game will never die. You may find his other musings at the Lake Show Life.
Follow him on twitter: @biefsantos