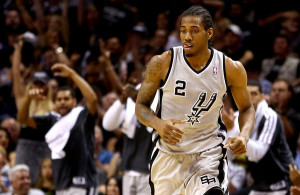 Retaining Kawhi Leonard won't come cheap for the San Antonio Spurs.
Entering his fourth season, 2014 NBA Finals MVP is up for a contract extension, and talks are going almost nowhere, according to Yahoo Sports' Adrian Wojnarowski:
As Kawhi Leonard holds firm on his desire for a maximum contract, extension talks with the San Antonio Spurs have failed to gather traction despite a looming Friday deadline, league sources told Yahoo Sports.

Leonard, the 2014 NBA Finals Most Valuable Player, would become a restricted free agent in July without an extension agreement by midnight Oct. 31 – the deadline for eligible extensions for the NBA's draft class of 2011.

Spurs president and general manager R.C. Buford and agent Brian Elfus have had several discussions in recent weeks, but no progress has been made, league sources told Yahoo Sports.

Leonard, 23, is considered one of the NBA's rising young stars, and multiple league executives told Yahoo Sports he'll command a max offer sheet on the market next summer…

…San Antonio could sign Leonard to a five-year, $90 million-plus extension now, if the Spurs were willing to make him their designated player. San Antonio could also negotiate a four-year deal at the maximum contract level – or below – before the Friday deadline. As a restricted free agent next summer, the Spurs could also sign Leonard to a five-year extension at or below the maximum contract level.
Can't say this is shocking. Players always want to maximize earning potentials. Max-contract phrasing is everywhere when it comes to any type of high-profile restricted free agent. That's just how it works.
Leonard's case, though, is an interesting one. The Spurs aren't a team that hands out max deals willy nilly. Most, if not all of their roster consists of below-market pacts and players willing to make financial sacrifices. That's what Tony Parker, Tim Duncan and Manu Ginobili have done over the years. Many automatically assume Leonard will do the same thing.
But Leonard is 23 and coming off his rookie contract. Players in his situation, who are approaching their first huge payday, aren't known for making sacrifices. Plus, there's also the new TV deal to consider.
If the cap is really going to explode by 2016, so too will max contracts. Leonard's hypothetical max deal really wouldn't look like a max deal at all, then, two summers now. That's his party's leverage, a power play the Spurs are forced to take seriously.
Passing on signing him now only means the Spurs can match any offer he receives next summer, but if the NBA implements some sort of smoothing-out process, the max sheet he accepts could be worth even more in 2015, thus costing the Spurs money they could save by ironing out an extension now. And like Woj notes, some team could swoop in with a Chandler Parsons-type deal, the way the Dallas Mavericks did this past offseason, making it difficult for the Spurs to, in good conscience, bring Leonard back.
In the end, though, this likely means nothing. The Spurs tend to keep the players they want to keep. Someone will bend. A compromise will be reached. As for when an agreement is hashed out, we don't know. It could be before the Oct. 31 deadline, it could be next summer. Whenever it happens, it's going to happen. That's the most important aspect of all this.
Dan Favale is a firm believer in the three-pointer as well as the notion that defense doesn't always win championships. His musings can be found at Bleacherreport.com in addition to TheHoopDoctors.com.