April 2, 2012 – The Hoop Doctors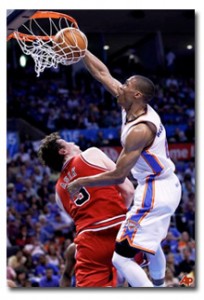 The OKC Thunder continued their trail of dominance yesterday. They are running all over anyone that gets in their way. Latest victim, another powerhouse, the Chicago Bulls.
The scary thing for the league is, the game wasn't even all that close with the Thunder winning 92-78 against the best team in the Eastern Conference who had won 8 of their last 10 games.
The highlight of the game was certainly when 6'3″ OKC point guard Russell Westbrook, rose up and dunked on 7'0″ Bulls center Omer Asik with authority….