October 26, 2010 – THD Rumor Patrol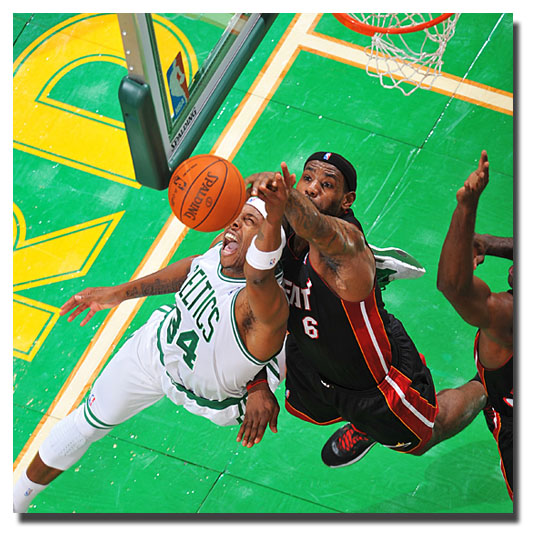 The Miami Heat had their two biggest weaknesses exposed on the regular season opening night against the Boston Celtics. Those weaknesses are size in the paint, and point guard play. The combination of Shaq, Garnett, and Jermaine O'Neal controlling the boards all night long proved to be too much for the Heat's bigs.
Add to that, the fact that the Miami Heat point guards had no chance of slowing down Rajon Rondo or making him work in the least on the defensive end, and you have a recipe for a dream matchup for the Celtics. Maybe the Heat shouldn't have been so quick in the offseason to scoff at picking up a cheap one year contract on a player like Allen Iverson. AI was was more than willing to play another year in the league, before ultimately signing in Turkey. Are you seriously trying to tell me the Heat execs believe Carlos Arroyo and/or Mario Chalmers is a better PG option than even an aging Iverson? Meanwhile back at the ranch….
LeBron James was a rare bright spot for Miami with 31 points as the new Big 3 fell in its debut to the old Big 3 of the Boston Celtics, 88-80, before a loud crowd that shouted "overrated!" at the Heat on Tuesday night.
Boston led 45-30 at halftime, but Miami cut that to 63-57 after the third quarter behind James' 15 points in that period. A layup by James made it 83-80 with 1:10 left in the game. But Boston, which once led by 19, got the last five points on a 3-pointer by Ray Allen and two free throws by Paul Pierce.
The other members off Miami's trio struggled, with Dwyane Wade scoring 13 points and Chris Bosh adding eight points and eight rebounds
Read more details via AP on Yahoo.com